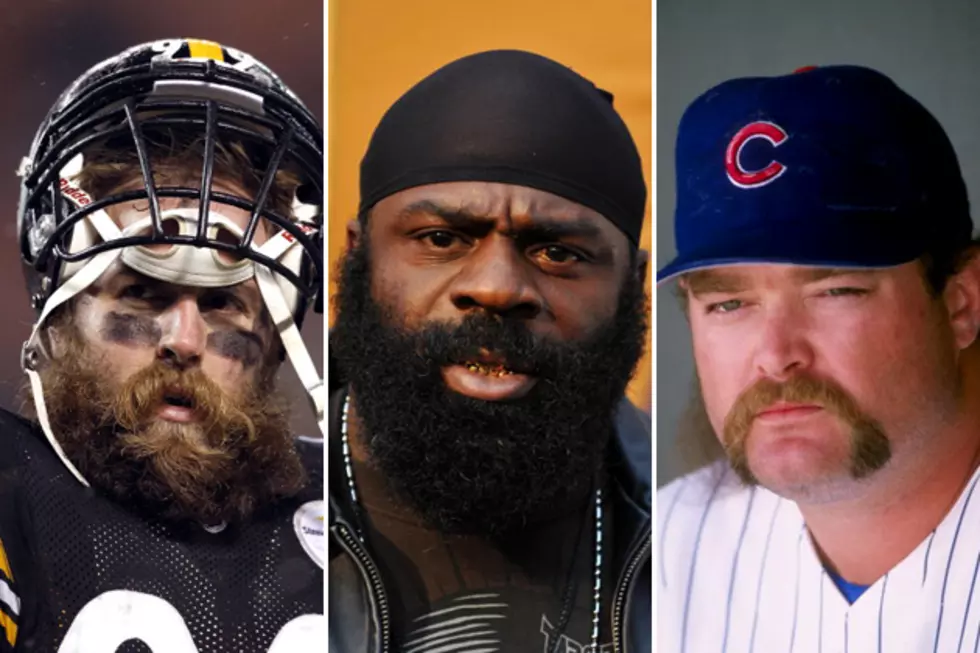 10 Athletes That Have Better Facial Hair Than You
For the professional athlete, there isn't a single tool in the arsenal as useful as high-quality facial hair.
Sure, talent and preparation play a small role in a player's success, but an impressive beard or mustache can make the difference between a championship ring and an early playoff exit. Think about it—is there anything more intimidating than a pitcher throwing 100 mile-per-hour heat while rocking a handlebar mustache?
Here are 10 pro athletes that understand the value of some solid scruff.
Kimbo Slice
Sure, Kimbo's beard is a tad unkempt, but it's probably not the best idea to say that to his face. In 2003, the former bouncer rose to national prominence after a series of his vicious backyard brawls were posted to the Internet. In fact, Slice gained such a feared reputation that the UFC offered him a chance to compete on its 'Ultimate Fighter' series. We have to assume that Slice's hyper-masculine beard, along with being primarily composed of his opponent's broken dreams, plays a big role in his fighting style.
Rod Beck
Let's get one thing straight—if "Eastbound and Down" star Kenny Powers is based on anyone, it's Rod Beck. Much like Powers, the former Giants and Cubs closer was known for his laser-like fastball, recording nearly 300 saves before an arm injury forced him back to the minor leagues. More importantly, Beck sported a thick mustache and a mullet that would make Joe Dirt blush. Sadly, Rod passed away in 2007 at the age of 38, but his magnificent facial hair will live on in the hearts and minds of sports fans everywhere.
Scott Spiezio
Scott Spiezio's diminutive goatee is a prime example of the merits of quality over quantity. The former utility man was a key part of the St. Louis Cardinals' 2006 World Series run, producing several clutch hits in the season's late months. At some point during the season, Spiezio decided that cardinal-red facial hair was the only thing missing from his look, and from that point on it was hard to notice anything else. Sure, a lot of people found it creepy, but having the guts to hit a triple while the entire crowd is staring at your soul patch is half the battle.
Brett Keisel
Every defensive lineman in the NFL has a little caveman in him, and none more so than Brett Keisel. The veteran Steelers defensive end has been a part of two Super Bowl teams, but is best known for his prehistoric bristles. Keisel started growing his ridiculous facial hair, known simply as "Da Beard," during the team's 2010 playoff run. In 2011, the Wyoming native devastated football fans by shaving Da Beard for charity, but they won't be upset for long—Brett can probably pop another one of those things out in about five minutes.
Brian Wilson
Of course, no list featuring incredible facial hair would be complete without a Brian Wilson appearance. In fact, Wilson's massive black beard is a bigger celebrity than the man himself. The legend of the beard began in 2010, when the Giants closer grew it out during the team's playoff run. San Francisco fans quickly took notice, as "Fear the Beard" became a popular battle cry en route to the team's World Series win.
When confronted by reports that he had been dyeing his face rug, Wilson replied, "I don't know what you're talking about. It's dark because we play a lot of day games. It's tanned. It's focused."
We can't argue with that logic.
George Parros
George Parros looks more like to be an evil oil tycoon than he does a professional hockey player. The mustachioed Florida Panthers forward first discovered his talent for follicle magic as a teenager, and would regularly engage in competitions with his brothers to see who could grow the best 'stache. Best of all, Parros has embraced his villainous appearance, playing the role of enforcer for several NHL teams.
Mike Commodore
Commodore has always been a serviceable NHL defensemen, but is far better known for his unruly ginger locks. The former Hurricane first experimented with the afro/beard combo during Carolina's 2006 Stanley Cup run, and has repeated the look several times since. He may look like a cross between Screech and Carrot Top, but that hasn't stopped fans from competing in E-Bay auctions for the right to shave and keep his hair.
Weird? Probably. Awesome? You betcha.
Hulk Hogan
Depending on how old you are, you'll either remember Hulk Hogan as a clean-cut American hero or the guy who sold out WCW and joined the nWo. But forget about all that nonsense---Look at the guy's mustache! Father Time may have taken its toll on the Hulkster's surfer hair, but it'll take more than years of rampant steroid use to take away his mutton chops. When Hogan combined his trademark bleach-blonde 'stache with a black beard, he instantly became one of wrestling's most reviled villains. Such is the power of facial hair.
Johnny Damon
Curious about the merits of Johnny Damon's beard? In 2004, Damon was a key component of the first Boston Red Sox team to win a World Series in 86 years. Powered by his Geico caveman look, Johnny hit a pair of home runs during Boston's Game 7 rout of the New York Yankees in the ALCS. Of course, you can just ignore all that baseball stuff and take a look at this blonde's reaction to Damon's merchandise. If it works for her, it works for us.
Rollie Fingers
Do not adjust your screen---former Oakland A's closer Rollie Fingers has indeed curled the ends of his mustache into a full circle. Much like an announcer during an iconic moment, it's best if we just stop talking now and let Rollie's handlebar wash over you.