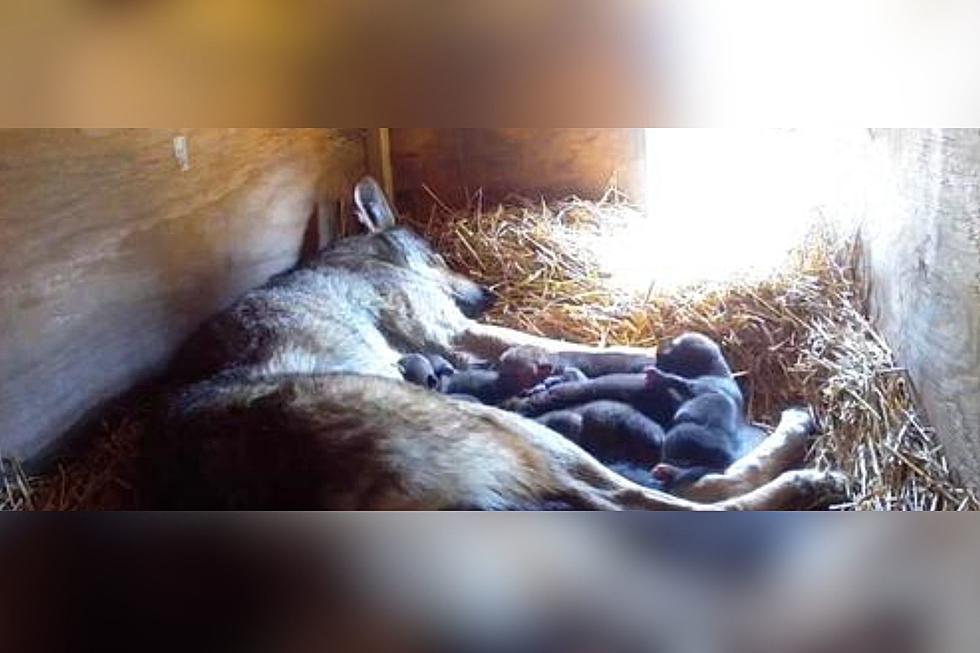 Sioux Falls Great Plains Zoo Welcomes 6 Adorable Red Wolf Pups
Dakota News Now (with permission), Canva
There has been a lot of excitement at the Great Plains Zoo & Delbridge Museum of Natural History. Not only are the zoo keepers getting the animals ready for summer, but also taking care of six new red wolf pups!
On Thursday, May 4th, the Great Plains Zoo & Delbridge Museum of Natural History proudly welcomed new red wolf pups to the world. The first-time parents Camelia and Uyosi now have four males and two females in their pack.
Unlike some births at the Great Plains Zoo & Delbridge Museum of Natural History, this one is truly special. Our partners at Dakota News Now are reporting red wolves are "one of the most endangered species." In fact, there are about two dozen red wolves in the wild right now. Thanks to the extensive conservation efforts, the staff at the Great Plains Zoo & Delbridge Museum of Natural History have dedicated time to its "Red Wolf Species Survival Plan." The purpose of this initiative is to "breed pairs with the greatest possible genetic diversity, with the goal of bolstering the wild population." Eventually, the red wolves at the Great Plains Zoo will be re-released into the wild.
The staff was hoping Camelia and Uyosi would mate this year. They have been preparing for this moment.
Their tireless conservation efforts are paying off! Currently, the new red wolf pups are being "closely monitored" by a camera. Pretty soon, zoo visitors will start to see a glimpse of these cute pups. They have started to venture around their enclosure by going on little walks with mom. For more on the zoo's conservation plan for the red wolves, click here.
Congratulations to Great Plains Zoo!
Birthday Freebies You Can Get at Sioux Falls Businesses
We've added even MORE birthday freebies from
Sioux Falls
businesses.
Everyone loves free stuff, especially on your birthday. Most of the freebies require you to sign up for their rewards program, e-mail list, or mobile app, so make sure you plan ahead. Some of the offers are good just on your birthday, while others are good for a week or longer.
Of course, this is just a small list. There are many more businesses that offer free stuff for your birthday right here in Sioux Falls. You just need to ask! Or, choose your favorite business, check out their website, and sign up for their e-mail club. All offers are subject to change at any time. Call ahead or check their website for more details.
*List updated 12/28/2022 - Individual businesses may change their policies at any time.
32 Things to Do in Sioux Falls This Summer That Are Absolutely Free!
Sure, there are tons of things to do in the
Sioux Empire
every summer, but if your entertainment budget is small (or zero), we have the solution - actually, we have lots of solutions.
Here is a list of family-friendly (and some, just adult-friendly) events happening this summer in the Sioux Falls area that you should check out. Oh, the best part, everything on this list is FREE.
More From KSOO-AM / ESPN Sioux Falls