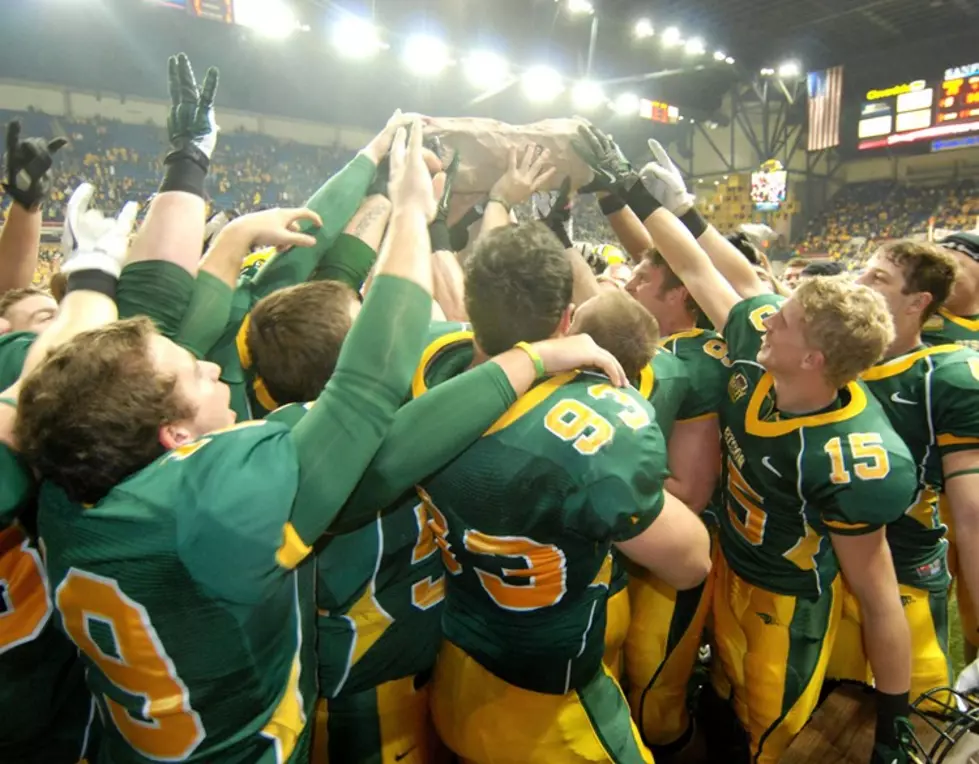 North Dakota State Inks Television Coverage for Every Game
North Dakota State University
North Dakota State announced today that every Bison football contest will be televised. The television coverage includes one game on Fox Sports One, seven on ESPN 3, ten on NBC North Dakota, and three on Midco Sports Network.
The Fox Sports One contest will be when the Bison match up with Iowa State on August 30. ESPN3 will carry the contests between Incarnate Wood, Montana, Western Illinois, Southern Illinois, Indiana State, South Dakota State, and Youngstown State.
NBC out of North Dakota will carry all the games except for the Iowa State game. Midco Sports will also carry the Montana, South Dakota, and South Dakota State games.
| | | | |
| --- | --- | --- | --- |
| DATE | OPPONENT | TIME | TV BROADCAST |
| Sat, Aug. 30 | at Iowa State | 11 a.m. | (HD) FOX Sports 1 |
| Sat, Sept. 6 | at Weber State | 7 p.m. | (HD) Altitude/NBC ND |
| Sat, Sept. 13 | INCARNATE WORD | 2:30 p.m. | (HD) NBC ND/ESPN3 |
| Sat, Sept. 20 | MONTANA | 2:30 p.m. | (HD) NBC ND/SD Midco/ESPN3 |
| Sat, Oct. 4 | *at Western Illinois | 3 p.m. | (HD) ESPN3/NBC ND |
| Sat, Oct. 11 | *SOUTHERN ILLINOIS | 1 p.m. | (HD) NBC ND/ESPN3 |
| Sat, Oct. 18 | *INDIANA STATE | 2:30 p.m. | (HD) NBC ND/ESPN3 |
| Sat, Oct. 25 | *at South Dakota | 2 p.m. | Midco/NBC ND |
| Sat, Nov. 1 | *SOUTH DAKOTA STATE | 2:30 p.m. | (HD) NBC ND/SD Midco/ESPN3 |
| Sat, Nov. 8 | *at Northern Iowa | 4 p.m. | NBC ND |
| Sat, Nov. 15 | *at Missouri State | 2 p.m. | NBC ND |
| Sat, Nov 22 | *YOUNGSTOWN STATE | 2:30 p.m. | (HD) NBC ND/ESPN3 |
More From KSOO-AM / ESPN Sioux Falls