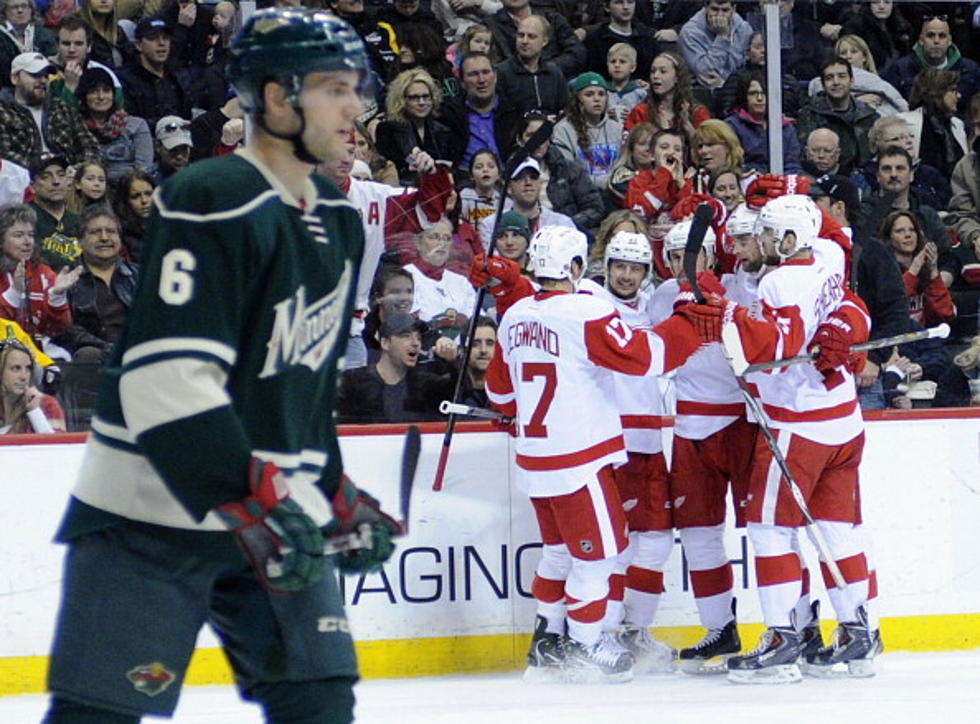 Nyquist's Goal Gives Red Wings 3-2 Win Over Wild
Hannah Foslien/Getty Images
ST. PAUL, Minn. -- Depleted by injuries, and maybe just due for a drop-off, the Detroit Red Wings have found their remarkable 22-season streak of reaching the playoffs in jeopardy.
Well, with 12 games to go, they are still in line for a spot.
Gustav Nyquist's third-period goal gave the Red Wings a 3-2 victory Saturday over the Minnesota Wild, their fourth win in five games.
Brendan Smith and David Legwand each scored on a power play for the Red Wings, who were in a 2-for-25 slump with the man advantage until getting goals on both of their opportunities in this rare afternoon start. The Red Wings also quieted the Wild's top line of Mikael Granlund, Zach Parise and Jason Pominville, held without a point for the first time in eight games.
The Red Wings, missing stars Pavel Datsyuk and Henrik Zetterberg among others, moved into eighth place in the Eastern Conference with 79 points. Columbus has 78.
Mikko Koivu gave the Wild an early lead with a power-play goal, and Charlie Coyle tied it on a third-period penalty shot. But the Wild, clinging to a wild card spot in the Western Conference, fell to 2-3-4 in nine games since the trade deadline.
"We can't keep letting these points go to waste. We've got to come into every game and play a solid 60 minutes," Coyle said, "It's coming down to the wire here, and we've got to make the most of it."
The Wild, who have 83 points with 11 games remaining, are in seventh place, slightly ahead of Phoenix. The first team below the cut, Dallas, has 77 points but one more game left than the Wild.
Minnesota coach Mike Yeo, prepared for questions from reporters about the recent slide, tried to stress optimism.
"We're a confident team, and we feel good about where we're going. We just have to jump start things a little bit right now," Yeo said.
Just 15 seconds into the final frame, Johan Franzen, trailing Coyle on a breakaway, stuck his stick out to trip the struggling young center. The penalty shot was awarded, the first of Coyle's career. He used a slick right-left move to fake out Jimmy Howard and tie the game at 2. That was Coyle's second goal in 24 games.
The momentum didn't last for the Wild, though.
Nyquist, who has an NHL-leading 16 goals in 22 games since Jan. 20, sent a snap shot between Jared Spurgeon and Ryan Suter that Wild goalie Darcy Kuemper didn't appear to see right away and let get past his glove. The Red Wings thought they had another one barely a minute later when Franzen was called for making contact with Kuemper before the puck went in.
Nyquist, who leads the Red Wings with 21 goals in just 45 of the team's 70 games since being called up from Grand Rapids of the AHL, credited center Tomas Tatar for creating space.
Copyright 2014 The Associated Press. All rights reserved. This material may not be published, broadcast, rewritten or redistributed.