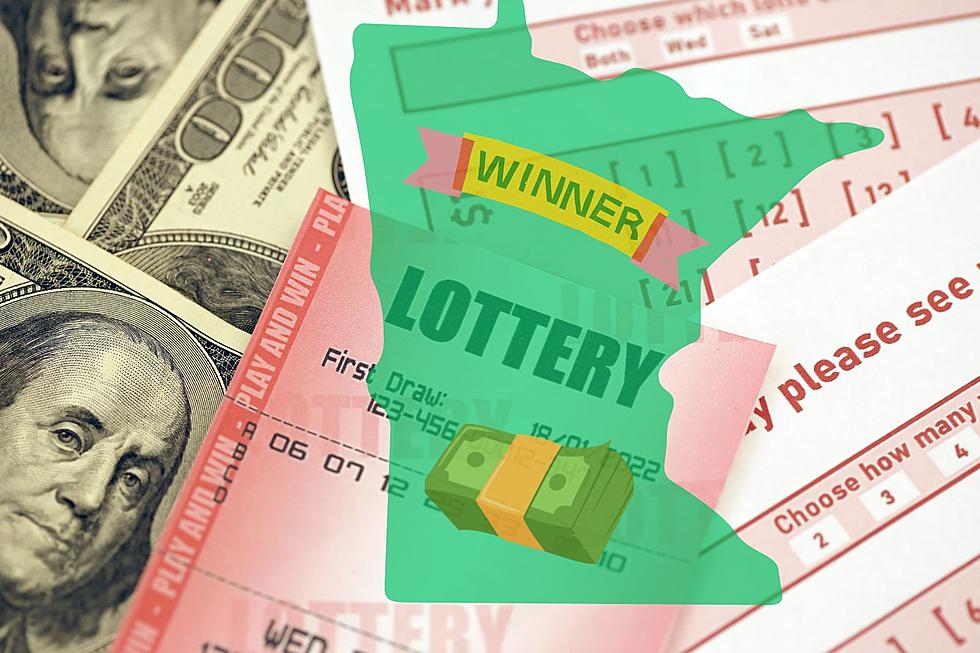 Really? Minnesota Is A Top 3 State For Winning Powerball
Canva
Seeing as the jackpot is over three-quarters of a BILLION dollars for Saturday's drawing, did you know Minnesota is one of the top three states for winning at Powerball?
The Powerball lottery has been around for a long time-- it just celebrated its 30th-anniversary last year, in April of 2022-- and has given away a LOT of money. According to the official Powerball website, since its creation in 1992, Powerball has raised $27 billion for "good causes supported by lotteries," the site says.
The Powerball lottery is currently played here in the Land of 10,000 Lakes along with  43 other states, U.S. Virgin Islands, and Puerto Rico. But not all states have had the same amount of winners. And when it comes to winning the Powerball, Minnesota is one of the top states in the country!
According to World Population Review, Minnesota ranks third on the list of states with the most Powerball winners, with 22 lucky players having won money so far in 2022. That means 6 percent of all Powerball winners in 2022 were from right here in Minnesota. In fact, only Missouri and Indiana (with 39 and 31 winners, respectively) have had more luck winning at Powerball than the North Star State has had through last year.
Keep in mind that when compiling these results, ALL cash prizes were included, not just the grand prize jackpot. Here's how Powerball prizes are awarded:
+ $4 for matching one number
+ $7 for matching two or one plus the Powerball
+ $100 for matching four numbers or three plus the Powerball
+ $50,000 for matching five numbers or four plus the Powerball
+ $1 million for matching all five numbers without the Powerball
+ The grand prize for matching all five numbers plus the Powerball (minimum $40 million)
The current Powerball jackpot is sitting at $875 million for the Saturday, July 15th, 2023 drawing. That'd give you just $442 million if you were the sole winner and took the cash payout. But here's the thing: Powerball says the overall odds of winning ANY prize are just 1 in 24.9 (which is pretty good, right?), but the odds of winning the jackpot are 1 in 292.2 million. It doesn't hurt to dream, though, right?
Listen to Curt St. John in the Morning
Weekdays from 6 to 10 on Quick Country 96.5
14 Ways Minnesotans Can Make Money From Their Comfy Couch
Forget changing out of your pajamas! You can do all this work from home.
More From KSOO-AM / ESPN Sioux Falls