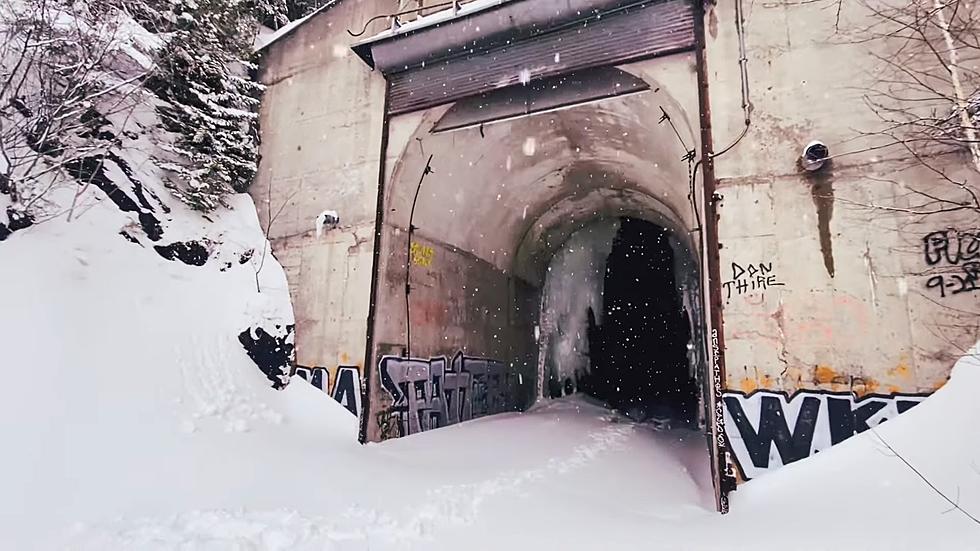 Explore Minnesota's Largest & Abandoned Railroad Tunnel, The Cramer Tunnel
Duluth Ubrex via Youtube
The Cramer Tunnel opened in 1957 and is located in Cramer, Minnesota. An  unincorporated community in Lake County, about 78 miles north of Duluth. The tunnel measures about 1,800 feet from entrance to exit, making it the largest train tunnel in Minnesota.
According to Wikipedia, the Tunnel was built after LTV (Ling-Temco-Vought) Steel blasted a tunnel to connect Hoyt Lakes taconite plant and the location of its ore dock at Taconite Harbor on Lake Superior, where the taconite was shipped to eastern steel mills. LTV was a large US conglomerate which existed from 1961 to 2000.
The tunnel was used consistently until LTV went bankrupt and closed their ore dock in Taconite Harbor. The location was purchased by Cleveland Cliffs in 2002, who specialize in the mining, beneficiation, and pelletizing of iron ore, as well as steelmaking. Cleanup trains ran on the line to pick up leftover chips and pellets until 2008. The location has been abandoned ever since.
If you are traveling to the North Shore, you can actually see apart of this system. It's where the three railroad overpasses that allowed trains to cross over Highway 61 to areas around Taconite Harbor. You even pass under it as you drive on Highway 61 near Schroder, Minnesota.
I found a story on Cascade Vacation Rentals that claim since the tunnel has been abandoned, it's an off-the-beaten-path gem that many locals aren't even aware exists. While there has never been any haunted stories of the tunnel, the writer did admit they had that feeling that they were being watched. The feeling grew stronger the further they got into the tunnel. After they were out of the tunnel, the feeling disappeared.
The writer did recommend seeing the tunnel but did state a word of caution as the tunnel is not maintained, so enter at your risk. They also shared how to get to the tunnel (fair warning, it is a bit of a drive and a hike):
Take Highway 61 north out of Silver Bay and turn left onto Highway 1. In the town of Finland turn right onto Highway 7/Cramer Road.  Take Cramer Road for about 13 miles until you pass under a tall railroad trestle bridge. About 0.1 mile after you pass under the bridge you will turn right into a gravel pit.  Keep to the left of the first fork, staying on the well-traveled road, then curve to the right at the second fork.  Park near the start of the hiking path leading up the hill.
The tunnel is now covered in graffiti as most abandoned places seem to be. Our friends over at Duluth Ubrex decided to take the long hike and explore the largest railroad tunnel in Minnesota. Take a look below:
This Minnesota Ghost Town Could Be Yours For Under $1 Million
11 Bad Reviews Of Minnesota's North Shore Scenic Drive
More From KSOO-AM / ESPN Sioux Falls