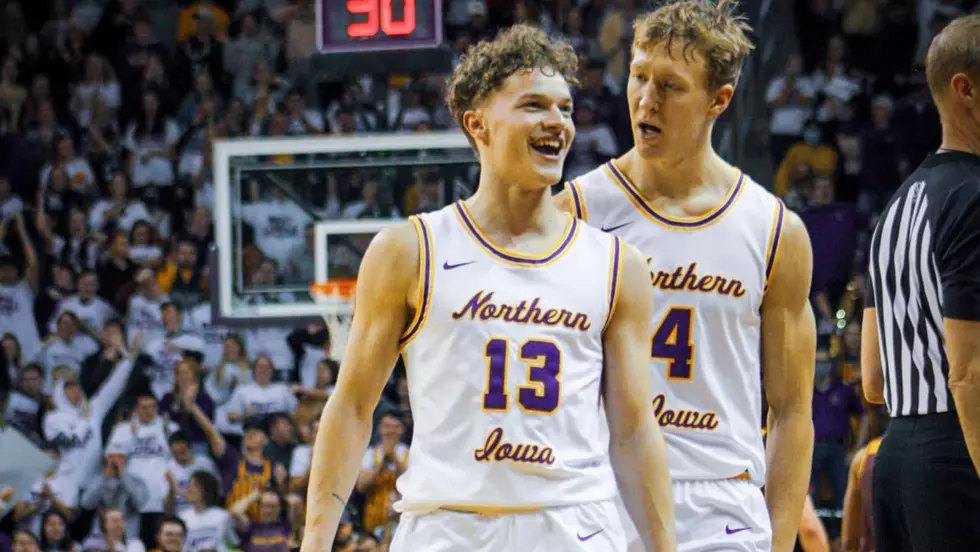 UNI Basketball Player Launches Mini Docuseries on YouTube
Andy Saigh
Sports fans around the country are waiting on the edge of their seat for football season to begin. In just about a month, the Northern Iowa Panther football squad will take on Air Force in Colorado Springs to start the year.
Folks in the Cedar Valley are excited to see UNI take to the gridiron, but eyes won't stray too far from the McLeod Center and the Panthers on the hardwood. Reigning Missouri Valley Conference (MVC) Sixth Man of the Year Bowen Born and guard for the purple and gold will make sure of that.
As he shared on Instagram last night, Born is launching a mini docuseries on his YouTube channel:
The series will follow Born through his daily life as a member of the UNI men's basketball team, which includes practice, weight training, getting shots up early in the morning and late at night, what his diet is like, and more.
Andy Saigh -- who is a social media specialist with the university and provides all of our photos of men's basketball and football at Townsquare Media -- will be Born's videographer for the process, and Bowen edits and produces the content himself.
Here's the first episode of the new mini-series:
This isn't the only exposure the Norwalk, Iowa native has found for himself, either. In search of NIL deals, Born has partnered with Square One Vintage clothing in Cedar Falls. Co-owner of Square One Evan Suchomel told me in an interview that he and his business partner Damien Lindsey approached Born about a partnership when they discovered his love of vintage clothing.
Born is returning to a Panthers squad that saw a large amount of production leave via transfer, graduation, and the NBA this offseason. Nate Heise is the leading scorer from last year's team that is returning, as he put up 8.6 points per game. Born is the second-leading scorer that is back for 2022, having averaged 7.4 points per contest last season.
An expanded role for the 2020 MVC Freshman of the Year is to be expected, and he will likely find himself in the starting lineup once again this season.
A Breakdown of UNI's 2022 Football Schedule
The Panthers will embark on their 2022 season in September of this year. Let's take a look at who they'll face, including some of the best in the Missouri Valley Football Conference.
Homes for Sale in Cedar Falls/Waterloo Under $150,000K
If you're looking to buy your first home, buy a house to rent out, or want to fix up a place and turn it into your dream home, these houses are all under $150,000
More From KSOO-AM / ESPN Sioux Falls