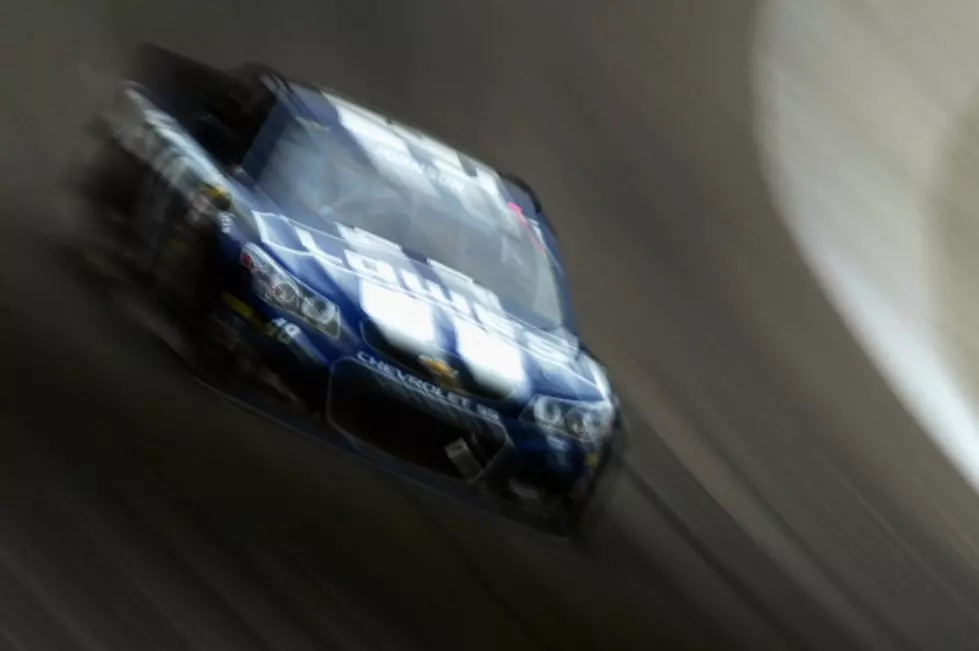 Johnson Takes Cup Lead With Dominating Texas Win
Jared C. Tilton/Getty Images for Texas Motor Speedway
FORT WORTH, Texas -- Jimmie Johnson is the leader again in the Chase for the Sprint Cup title after a dominating victory Sunday at Texas Motor Speedway.
The five-time Cup champion knows all too well that his seven-point lead over Matt Kenseth is far from overwhelming with two races left in the season.
Johnson also left the Lone Star State last November with a victory and seven-point lead -- and lost the championship to Brad Keselowski.
Kenseth and Johnson were tied in points when they got to Texas, though Kenseth was considered the leader based on his seven wins.
Johnson led 255 of 334 laps for his sixth win this season while becoming only the second three-time Cup winner at the high-banked 1½-mile Texas track. The No. 48 Chevrolet finished more than 4 seconds ahead of Hendrick Motorsports teammate Dale Earnhardt Jr.
Joey Logano finished third, ahead of Kenseth while Kasey Kahne, another Hendrick driver, was fifth.
Johnson got his 66th career victory, including a record 24 wins in Chase races.
But he and crew chief Chad Knaus are now in their third season since winning their fifth consecutive championship.
Kenseth was running second behind Johnson for much of the first half of the race before getting penalized for speeding. That dropped Kenseth to 16th place and more than 28 seconds back, though the No. 20 Joe Gibbs Racing Toyota recovered for a top-five finish.
At Phoenix, where the Chase goes next Sunday, Johnson is a four-time winner and finished second in March. His average finishing spot of 6.4 there is significantly better than the 17.2 for Kenseth, who has one victory at Phoenix and finished seventh there eight months ago.
Kenseth was still running second when Johnson pulled down pit road, a lap before Kenseth came in as the last to pit on a cycle of green-flag stops.
But Kenseth was caught speeding on pit road and had to serve a drive-through penalty. By time he got back on the track, he was the last car on the lead lap and about 25 seconds further behind than he had been before the two had pitted.
A caution a few laps later got Kenseth up three spots, but more importantly tightened up the field. Within a few laps after the ensuing restart, Kenseth was back in the top 10 and climbing.
By then, Kyle Busch had moved back into second, the same spot he was before a right front tire went down and put into in the outside wall on lap 57 to bring out a caution. Busch, who won the spring race in Texas, would up 13th.
When Busch went into the wall, he was between Johnson and Kenseth, who went onto pit road 1-2. The top Chase contenders didn't exit that way.
While Johnson had a quick stop, he was second out behind polesitter Carl Edwards, who had the stall closest to the scoring line. Kenseth has an issue on his stop that dropped him to sixth.
Edwards, who had been the only three-time Cup winner at Texas, led six times for 38 times. But Edwards finished only 187 laps before an engine failure ended his day.
Four-time Cup champion Jeff Gordon, the other Hendrick driver, was in contention for another championship after his win a week earlier at Martinsville moved him up to a season-high third in points.
But on Lap 74, the front left tire on the No. 24 Chevrolet blew, sending Gordon high and hard into the wall between the first and second turns. His returned to the race after repairs and finished in 38th place, 187 laps off the pace. He dropped to sixth the standings, 67 points back.
Copyright 2013 The Associated Press. All rights reserved. This material may not be published, broadcast, rewritten or redistributed.
More From KSOO-AM / ESPN Sioux Falls