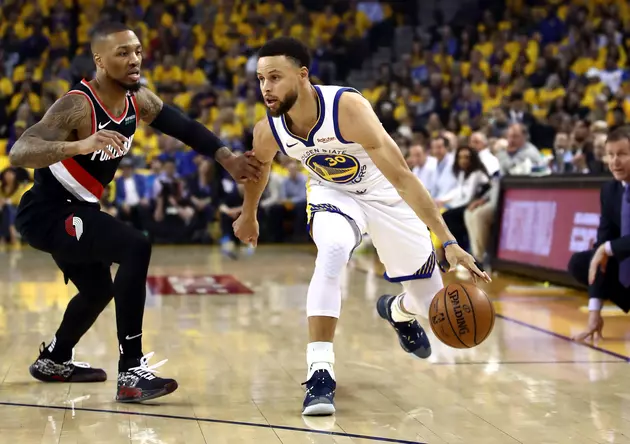 Stephen Curry Keeps Momentum, Sinks Nine 3s in Victory
Ezra Shaw/Getty Images
OAKLAND, Calif. -- Golden State Warriors star Stephen Curry scored 36 points and tied his career playoff high with nine 3-pointers in Tuesday's 116-94 win over the Portland Trail Blazers in Game 1 of the Western Conference finals on Tuesday night at Oracle Arena.
As the Warriors continue playing without star forward Kevin Durant (strained calf), Curry's teammates believe that his 33 second-half points in Game 6 of Friday's series-clinching win at the Houston Rockets helped set the tone for his performance in Tuesday's victory.
Curry's final line of 36 points, 7 assists, 6 rebounds and a steal marked the 22nd time in his career that he had at least 30 points, 5 rebounds and 5 assists in a postseason game, according to ESPN Stats and Information research.
Blazers coach Terry Stotts chafed at the notion that his team should trap Curry more, but the reality for the Blazers is that Curry repeatedly got open looks as the Portland big men dropped lower in coverage.
Curry made more uncontested 3-pointers (seven) than the Trail Blazers (five) did as a team in Game 1.
Game-2 is Thursday night 7:00 PM on ESPN 99.1
© 2019 ESPN Internet Ventures. All rights reserved. This material may not be published, broadcast, rewritten or redistributed.
More From KSOO-AM / ESPN Sioux Falls