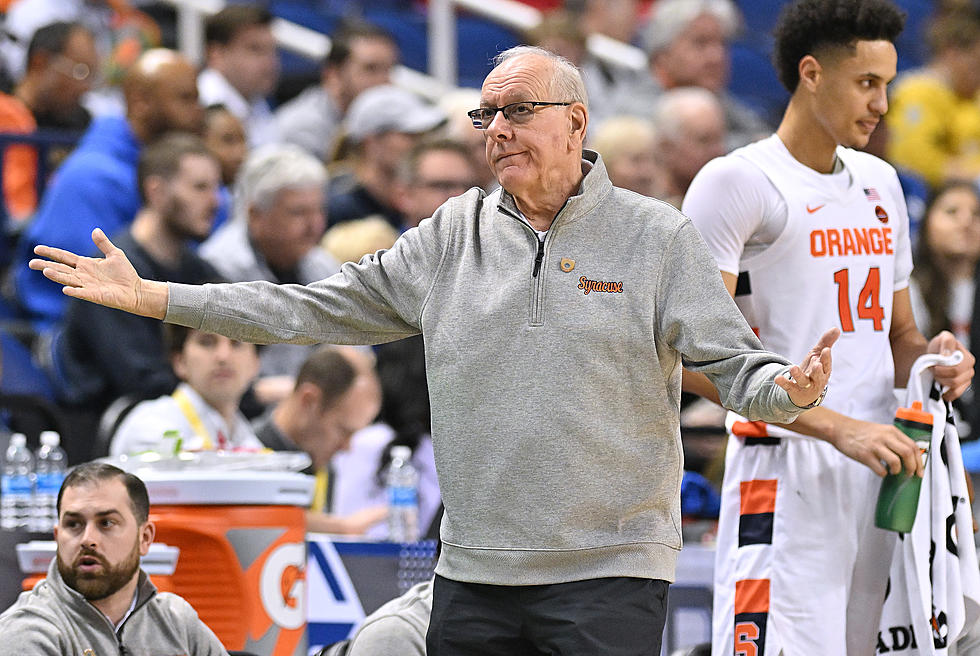 Syracuse Basketball Coach Jim Boeheim Done After 47 Seasons
Photo by Grant Halverson/Getty Images
After 47 seasons, Hall of Famer Jim Boeheim will not be returning as the men's basketball coach at Syracuse, it was announced Wednesday.
Just hours after the Orange lost 77-74 to Wake Forest on a buzzer-beating 3-pointer at the ACC tournament, Syracuse announced that associate head coach Adrian Autry, who has been on the staff since 2011, would be promoted to replace the 78-year-old Boeheim.
After Wednesday's loss, Boeheim hinted that he would be retiring, but he said it was up to the university to decide his future.
"As I've said from day one when I started working here, the university hired me, and it's their choice what they want to do," Boeheim said. "I always have the choice of retirement, but it's their decision as to whether I coach or not. It always has been... I've just been lucky to be able to coach this long."
The timing of Syracuse announcing that Autry, a former player under Boeheim, would be taking over the program wasn't set until Wednesday, sources told ESPN's Pete Thamel.
Boeheim has an official coaching record of 1,015-441 over his career -- with 101 wins having been vacated because of NCAA rules violations between 2004 to 2007 and 2010 to 2012 that resulted in sanctions. Retired Duke coach Mike Krzyzewski holds the Division I career record with 1,202 victories, with Boeheim ranking second with either total.
He took Syracuse to the NCAA tournament on 35 occasions and advanced to the Final Four on five of those trips -- winning the national title in 2003. He has 58 official NCAA tournament wins, which ranks fourth all-time.
CHECK IT OUT: 100 sports records and the stories behind them
More From KSOO-AM / ESPN Sioux Falls