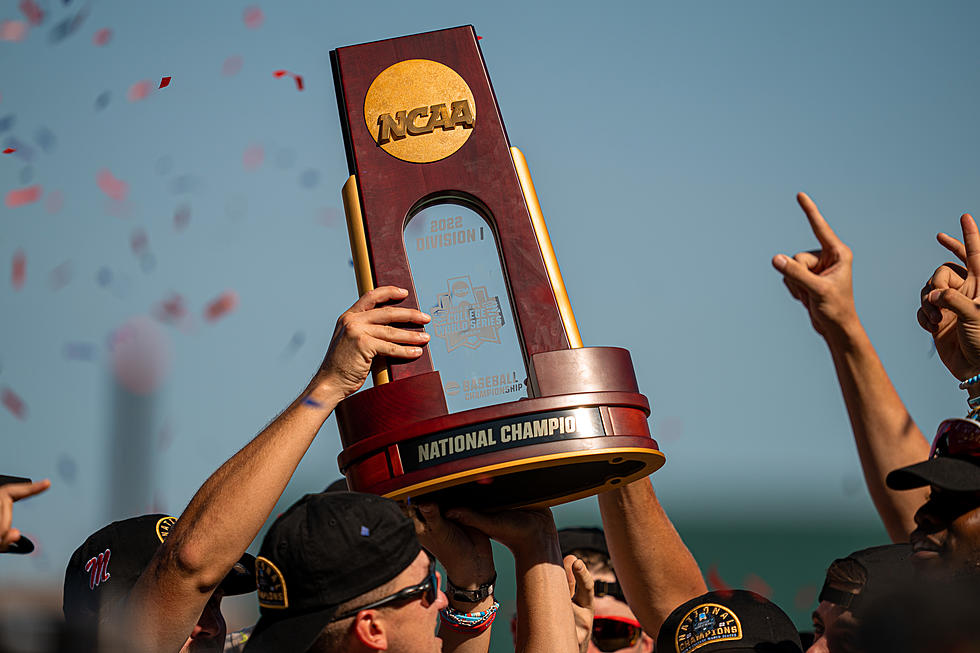 Wake Forest, Oral Roberts Advance To College World Series
Photo by Eric Francis/Getty Images
No. 1 national seed Wake Forest was expected to make it to the Men's College World Series. Oral Roberts? Not so much.
Yet it's on to Omaha for the Golden Eagles, who certainly look the part of a team deserving to be among the final eight in the NCAA tournament after going on the road and sweeping through regionals and then winning a three-game super regional against Oregon.
ORU is the lowest seed to reach the MCWS since Stony Brook in 2012. The feat is reminiscent of ORU's run to the Sweet 16 in the 2021 NCAA men's basketball tournament.
Now the team from the small evangelical school in Tulsa, Oklahoma, will head to Omaha, Nebraska, to play TCU on Saturday. Oral Roberts' only other MCWS appearance was in 1978, when the team was known as the Titans and played as an independent.
"We're going to let it fly here in a week," coach Ryan Folmar said after his team's 11-6 win Sunday night. "We knew we had a good club coming into the year. We continued to get better and better and better, and we're playing well at the right time of year. We get an opportunity to keep playing, and that's pretty fun."
ORU has never been an easy out in the NCAA tournament, but this team, out of the low-major Summit League, has overachieved against big-money baseball schools.
Wake Forest is headed to the MCWS for the first time since it won the national championship in 1955, and the Demon Deacons will bring the hottest offense in the country.
The Demon Deacons tied the NCAA tournament record with nine home runs in their super regional-clinching 22-5 win over Alabama, and they are the first team since LSU in 1997 to have won four tournament games by double digits.
"We've had high expectations all year -- No. 2 ranked, No. 1 ranked," coach Tom Walter said. "The higher the expectations got, the more these guys showed up."
Wake Forest's 68-year wait to return to the CWS is the longest for any team with more than one appearance in Omaha.
30 famous people you might not know were college athletes
Stacker
dug deep to find 30 celebrities who were previously college athletes. There are musicians, politicians, actors, writers, and reality TV stars. For some, an athletic career was a real, promising possibility that ultimately faded away due to injury or an alternate calling. Others scrapped their way onto a team and simply played for fun and the love of the sport. Read on to find out if your favorite actor, singer, or politician once sported a university jersey.
More From KSOO-AM / ESPN Sioux Falls