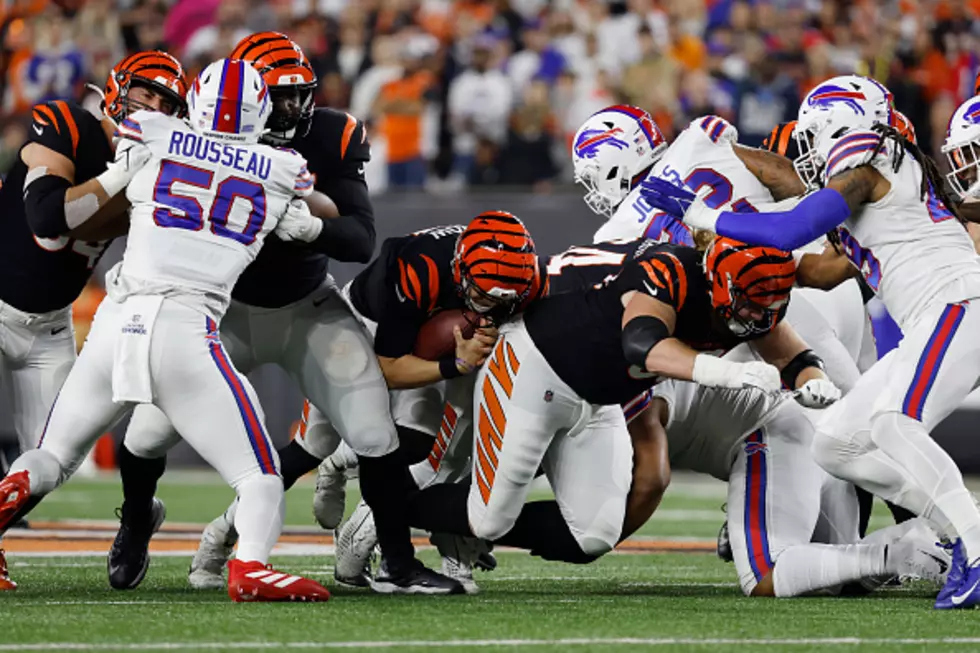 Former NFL Great Says Bengals Have Zero Chance Against the Bills
Getty Images
The countdown is on for the much-anticipated AFC Divisional round game between the Cincinnati Bengals and Buffalo Bills at Highmark Stadium this Sunday.
The game will finally match up Josh Allen and Joe Burrow, along with the explosive offenses that both teams have.
The Bills are five-point favorites according to the oddsmakers in Vegas, but many TV and radio analysts around the country are picking the Bengals to win this game on Sunday. The reasoning is Josh Allen's recent turnovers and the fact the Bengals have Ja'Marr Chase and Tee Higgins on offense.
However, one former NFL great does not see it going that way. He says the Bengals have "zero chance" against the Bills on Sunday.
Eric Weddle played safety in the NFL from 2007-2019 and signed back with the Los Angeles Rams in the 2021 postseason, which went on to a Super Bowl victory. He played the first 12 seasons of his career with the San Diego Chargers and Baltimore Ravens.
Weddle was a six-time Pro Bowler and two-time first team All-pro selection.
Weddle was a guest on Up & Adams with TV personality Kay Adams, and he said the Bengals have "zero chance" against the Bills.
Weddle explains the reason behind that strong statement is the fact Cincinnato will be missing three starters along the offensive line, including their two starting tackles.
"They can't protect Joe, they're playing without any lineman." said Weddle.

 

"They should have lost to the Ravens, they got outplayed by the Ravens but snuck that one through," added Weddle.
The Bills don't have Von Miller but Weddle says it doesn't matter. He admitted Allen likely will have some mistakes and the Bengals will get some plays down the field, but Weddle says it doesn't matter and the Bills will still win...
Remember, Weddle went up against the Bengals in the Super Bowl last February. This isn't the exact same Bengals team but Weddle has first-hand experience going against their offense on the defensive side of the ball.
6 Buffalo Bills Greats That Didn't Look Right In A Different Uniform
Unfortunately, sometimes your favorite player leaves your team and when you see them it just looks weird. Here are five former Buffalo Bill greats that just look weird wearing a different team's jersey.
15 Things You Should Never Do at a Bills Home Game
Things that are a no-no to do at a Buffalo Bills home game.
22 Famous Buffalo Sports Phrases Every Die-Hard Bills and Sabres Fan Knows
Being a sports fan in Buffalo is sometimes like knowing a different language. Here are 22 of our favorite Buffalo sports phrases you already know if you're a huge fan! And if you're new here, here's how to catch up.
More From KSOO-AM / ESPN Sioux Falls