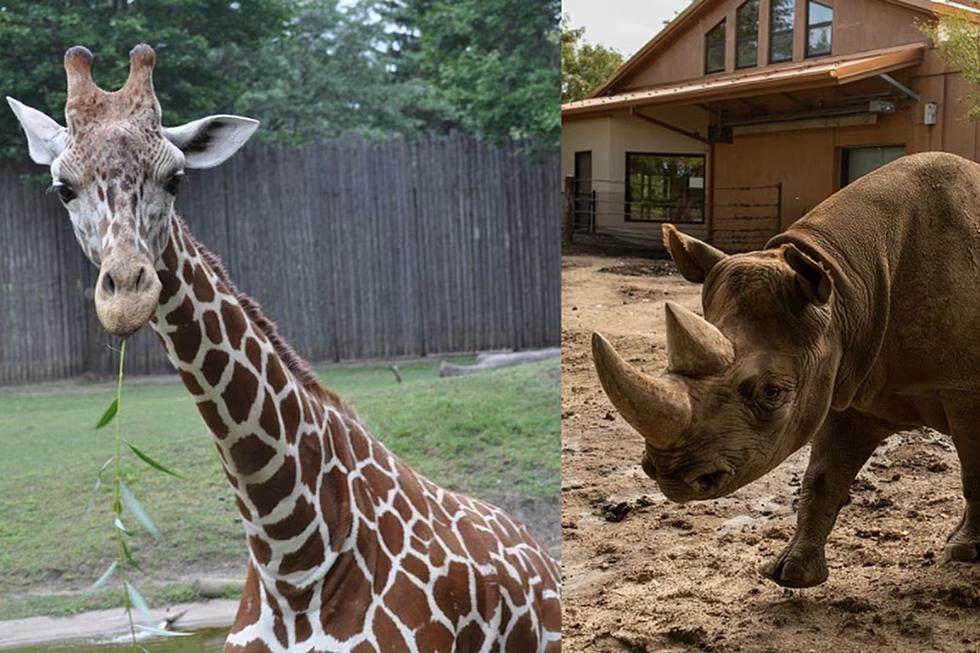 Why Are Two Friendly Faces No Longer At Sioux Falls Zoo?
Dakota News Now (with permission)
A common summertime activity with your family in Sioux Falls is visiting the Great Plains Zoo & Delbridge Museum of Natural History. There are so many animals to discover! However, zoo patrons might notice some familiar faces are missing.
An eastern black rhinoceros named Komati and a reticulated giraffe named Solstice have been relocated to zoos located in Florida and Oklahoma. Officials with the Great Plains Zoo & Delbridge Museum of Natural History made the bittersweet announcement on Monday, June 5th.
So why won't zoo visitors see their friends Komati and Solstice? The staff at the Great Plains Zoo & Delbridge Museum of Natural History explain it's part of the Association of Zoos and Aquariums' (AZA) Giraffe and Black Rhino Species Survival Plan. Our news partners at Dakota News Now are reporting the Oklahoma and Florida zoos are accredited Association of Zoos and Aquariums (AZA) programs. Essentially, Komati and Solstice are helping eastern black rhinoceroses named reticulated giraffes survive and thrive. Great Plains Zoo CEO Becky Dewitz tells Dakota News Now, "Species survival breeding programs are essential to ensure genetic diversity and the physical health of the animals in our care. As an AZA-accredited zoo, we are dedicated to supporting SSP programs within our AZA community."
The story of the eastern black rhinoceros, Komati is so sweet. Komatic was born at the Great Plains Zoo in 2016 and is the third calf of parents Imara and Jubba.  Solstice's name is quite fitting as well! Solice was born during the winter solstice in 2008. The other giraffes at the Great Plains Zoo, Chioke and Olivia Dee, will remain at the facility, as well as Komati's parents, Imara and Jubba. More details on the story can be found here.
Sioux Falls going to miss Komati and Solstice!
---
TRENDING FROM RESULTS-TOWNSQUARE MEDIA SIOUX FALLS
---
7 Most Common Snakes in South Dakota
South Dakota
may not have creepy crawlies like they do in Australia. But, there are a fair amount of snakes to be found here.
A few can be found in the Black Hills, some enjoy life on the west-river plains and several are concentrated in the southeastern part of the state along the Missouri River.
There are seven common species of snake that can be found throughout the state, including our one venomous species.
Taking Time to See: Whittier Neighborhood Park Mural in Sioux Falls
I've lived in Sioux Falls for over a decade, and one of the many things I like about this town is that it's big enough that there is always something new to see.
I'm an eastsider and drive-by
Meldrum Park
on 6th street several times a week. It's a showcase of the best of Sioux Falls; often full of family gatherings, kids playing, and sports; it's a true neighborhood park.
More From KSOO-AM / ESPN Sioux Falls