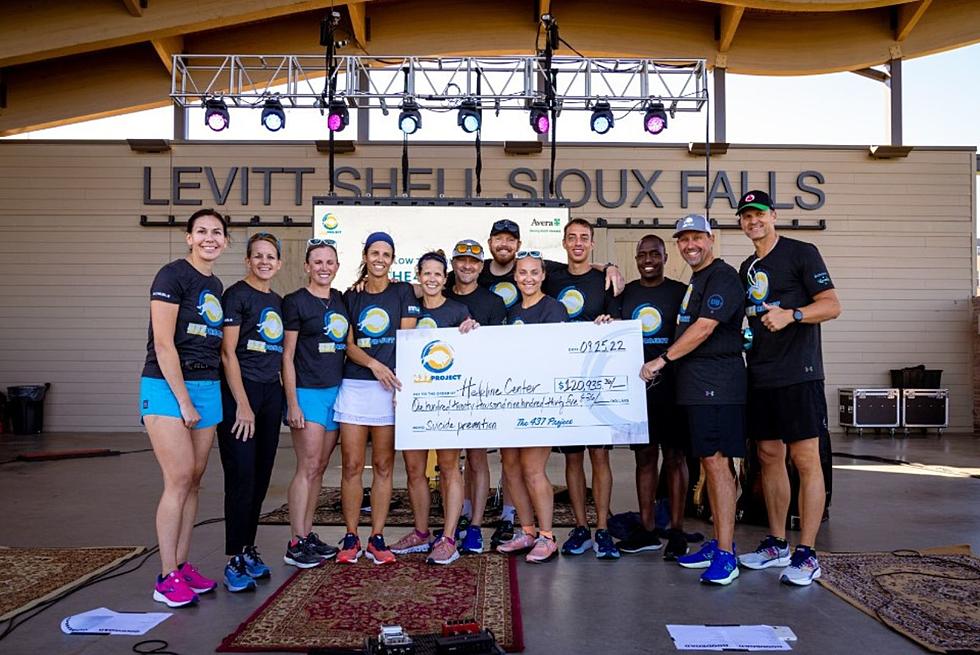 Twelve Sioux Falls Community Leaders Running Across South Dakota
Courtesy Helpline Center & Project 437 and Canva
Twelve runners running 437 miles across the state of South Dakota, is more than just a mere marathon. But the 437 Project is more than just another fundraiser.
It is a way to help people make a connection between mental and physical health. It's a way for 12 community leaders to show their commitment to our city and state and the people who live here in a unique and positive event.
The 437 Project benefits The Helpline Center here in Sioux Falls which serves thousands of people every year and offers hope to individuals with thoughts of suicide. It also helps to support people who've lost a loved one to suicide.
Beginning in Rapid City on Thursday, September 21, runners will begin this relay-style journey that will finish in Sioux Falls on Sunday, September 24th, with a huge celebration.
The runners in this year's 437 Project Run are:
Micah Aberson | President, Cambria
Carter Gronseth | Emergency Room Nurse, Avera
 Erica Knips | Patient Navigator, Orthopedic Institute
 Benson Langat | Therapist, Family Service, Inc.
 Lisa Larson | Office Manager, Dobesh Chiropractic
 Kelly Marshall | Account Risk Manager, Risk Administration Services
 Dr. Ross McDaniel | Founder and Doctor, ChiroSport
John Meyer | Entrepreneur & Executive Director of Leadership South Dakota
 Alex Pool | Integration Manager, Helpline Center
 Roni Radigan | Psychiatrist, Avera
 Rochelle Sweetman | Health Care Consultant, Marsh McLennan Agency 
Paul TenHaken | Mayor, City of Sioux Falls
You can support the runners by giving at The 437 Project, and following along on Instagram, and Facebook. And also by coming out to community events across the state.
There will also be four community events across the state that people are invited to participate in. You can meet the runners, make donations, play fun yard games, and get some great food from local food trucks.
These community events are in:
 Rapid City: Wednesday, September 20 from 5:00 PM-7:00 PM MT at Dacotah Bank in downtown Rapid City. (Kick-off celebration) 
Pierre: Friday, September 22 from 4:00 PM-6:00 PM CT at The Capitol Building Green.
Mitchell: Saturday, September 23 from 6:30 PM-8:30 PM CT at World's Only Corn Palace.
Sioux Falls: Sunday, September 24 from 1:00 PM-3:00 PM CT at Levitt Sioux Falls. (Finish line celebration)
For more information about The 437 Project just see the website or on Facebook.
One Of South Dakota's Coolest Parks Is Just East of Sioux Falls
Before this South Dakota State Park was dedicated it had been more than 40 years since South Dakota had a new State Park. And this Sioux Falls green space is a gem!
More From KSOO-AM / ESPN Sioux Falls