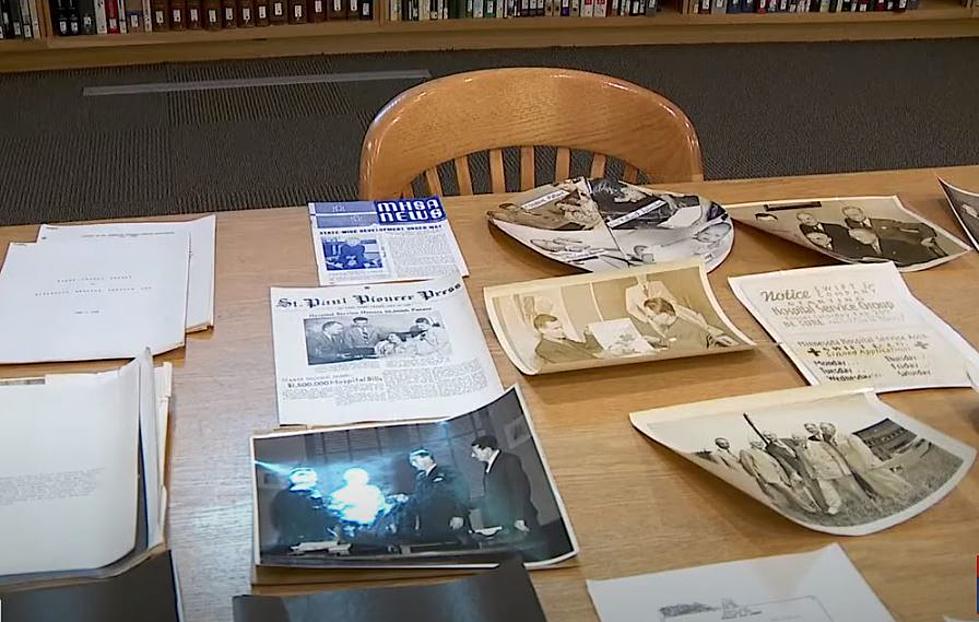 Whoops! 'Forgotten' Time Capsules Recently 'Found' In Minnesota Building
Image Credit Fox 9 KMSP via Youtube
The people at the Minnesota Historical Center recently shared what was found inside BlueCross BlueShield's St Paul headquarters building in multiple hidden and forgotten time capsules. The capsules were recently discovered after plans for the building seemed to hint at finding hidden items in certain areas of the building. KMSP-TV, Fox 9, shared the find last night on their 10pm news. 
Monica Engel with BlueCross BlueShield spoke to Fox 9 about the discoveries.
"When BlueCross built its first major headquarters in St. Paul in 1950, its leaders buried a treasure without a map — at least in a spot no one remembered. But when leaders of the current BlueCross and BlueShield Minnesota decided to consolidate their present headquarters in Eagan and move across the street, they discovered a clue.
"And what we found is a reference in some blueprints that we had recovered from our main building," recalled Engel. "And the material really gave us a hint that there were some time capsules within the property of the main building."
Masons chiseled out a cornerstone dated 1951 and found nothing. But their curiosity paid off when they chiseled free the adjacent 1970 cornerstone.
"They actually found two-time capsules, one that was from the 1950s and one that was from the 1970s""
Inside the TWO time capsule were newspaper clippings, documents, photos, and other effects from the times that they were assembled.
The capsules were forgotten about until BlueCross and BlueShield Minnesota decided it was going to consolidate its workforce into one building, and during the moving process someone noted plans in the building showed there was a place for a time capsule, and that led to the discovery progress.
You can watch the Fox 9 news piece on the discovery and opening of the capsules below.
LOOK: Highest-rated Free Things to do in Minnesota, According to Tripadvisor
Stacker
compiled a list of the highest rated free things to do in Minnesota from
Tripadvisor
.
LOOK: Highest-Rated Museums in Minnesota, According to TripAdvisor
Stacker
compiled a list of the highest-rated museums in Minnesota, according to Tripadvisor.
Come Visit Farming, MN With Us in Pictures
More From KSOO-AM / ESPN Sioux Falls