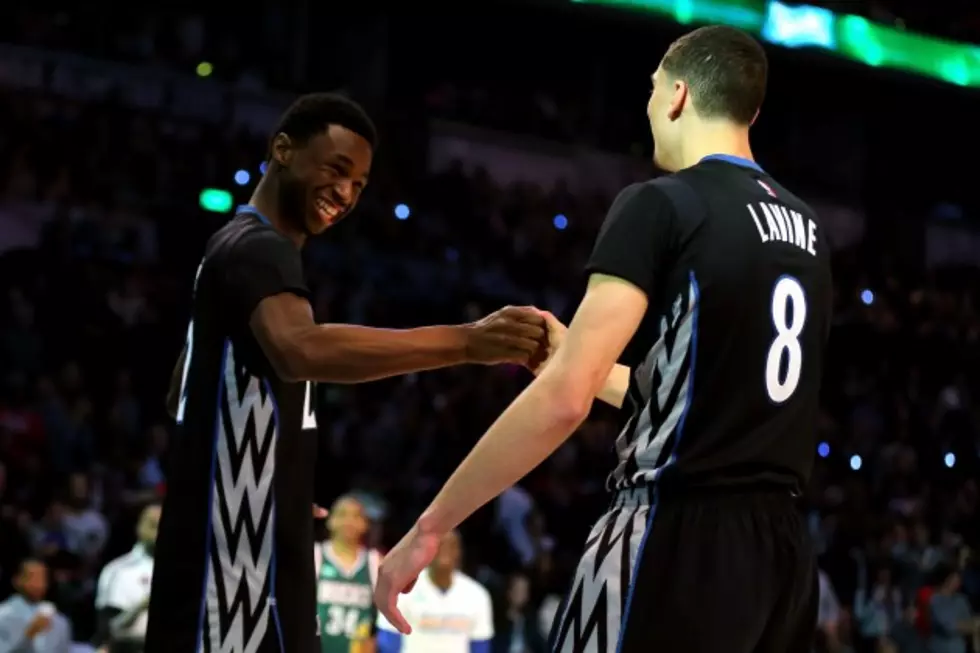 LaVine and Wiggins Starring While Minnesota Timberwolves Fight Injury Bug
Elsa/Getty Images
The Minnesota Timberwolves have nine players that are injured currently heading into tonight's (Wednesday) match-up with the Los Angeles Lakers. 
Shabazz Muhammad (finger), Robbie Hummel (hand), Anthony Bennett (ankle) and Justin Hamilton (headache) are all ruled out. Kevin Garnett (knee) and Gary Neal (ankle) are listed as doubtful. Ricky Rubio (ankle), Kevin Martin (hamstring) and Nikola Pekovic (ankle) are listed questionable.
In the meantime, the Timberwolves other two rookies are shining. Especially, Zach LaVine. LaVine, a rookie from the UCLA Bruins, scored 27 points Monday in Minnesota's win over Utah. In LaVine's game against the Jazz, he made six of seven shots from beyond the three-point line. In three of last six games, LaVine's scored 20-plus points.
Andrew Wiggins has been consistent for the Timberwolves, too. Wiggins, Minnesota's rookie from the Kansas Jayhawks, has scored over 20 points twice in the last five games. He is averaging 16.6 points and 4.8 rebounds per game in those last five games.
The Bounce Brothers (Wiggins and LaVine) are providing excitement for a team sitting in the cellar of the Western Conference with the worst record at 16-54.