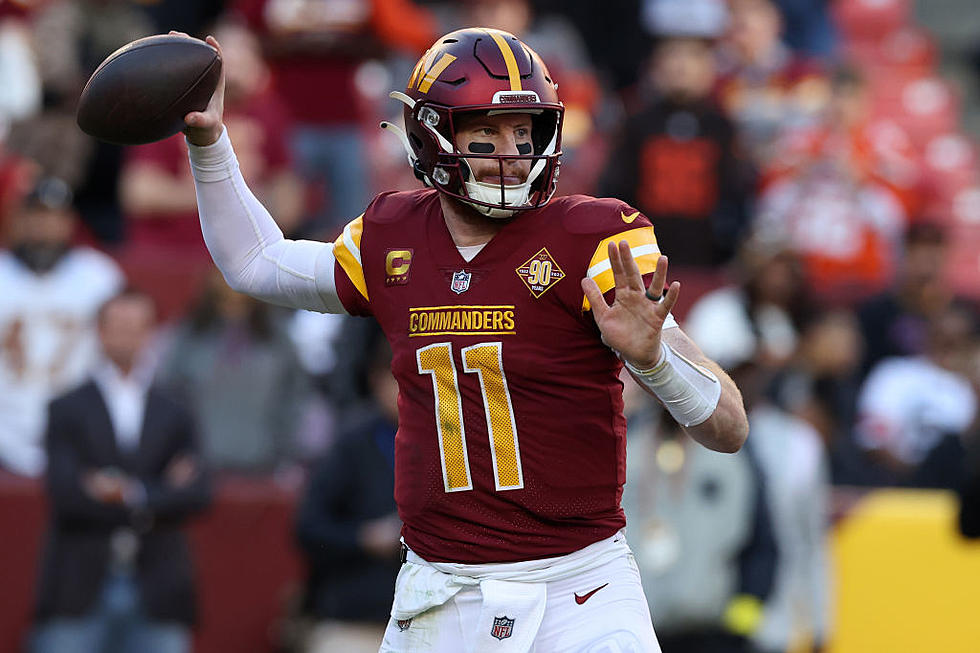 Likely Landing Spot For North Dakota's Very Own Carson Wentz
Todd Olszewski/Getty Images
Carson Wentz will likely play for his 4th different team in the last 4 seasons in 2023.
That is likely the scenario unless Carson Wentz decides to call it quits.  After Wentz's release from the Washington Commanders at the end of the 2022 season, Carson is likely looking at a backup role in 2023.
It doesn't seem that long ago that Carson Wentz was in the conversation for NFL league MVP, until his injury late in the season.  In 2017 he led the Eagles to the playoffs, then with Wentz on the sidelines for the playoffs, the Eagles would go on to win a Super Bowl championship.
The next couple of years for Philadelphia were pretty rough for Carson.  He just never seemed comfortable in the pocket like in 2017.  Wentz would eventually end up in Indianapolis in 2021.  He had the Colts on the cusp of the playoffs until a very bad loss on the last game of the season to Jacksonville.  Last season in Washington was another injury-plagued season that saw Wentz on the sidelines for a good share of it.
Most NFL experts believe Carson Wentz will likely be a backup quarterback for the rest of his career.
That doesn't mean he won't see time as a starter.  Let's face it, very few quarterbacks play an entire season without missing a game.  I think most Minnesota Vikings fans like myself are spoiled in having a quarterback like Kirk Cousins who hasn't missed a game in two years.  That is very rare.
So, where is the likely landing spot for Carson Wentz as a backup quarterback?
According to several publications and even the oddsmakers in Vegas, it's none other than last season's Super Bowl Champion the Kansas City Chiefs.  A Sports Illustrated article has the Chiefs as the most likely landing spot followed by Tampa Bay and Arizona.
Time will tell where Carson ends up, and we certainly wish the Bismarck native all the best.
LOOK: These Are the Richest NFL players
To uncover the richest NFL players,
Stacker
consulted
Celebrity Net Worth
and ranked them by their 2022 net worth, calculated using a proprietary formula.
These Are The 10 Best Dive Bars In North Dakota
More From KSOO-AM / ESPN Sioux Falls