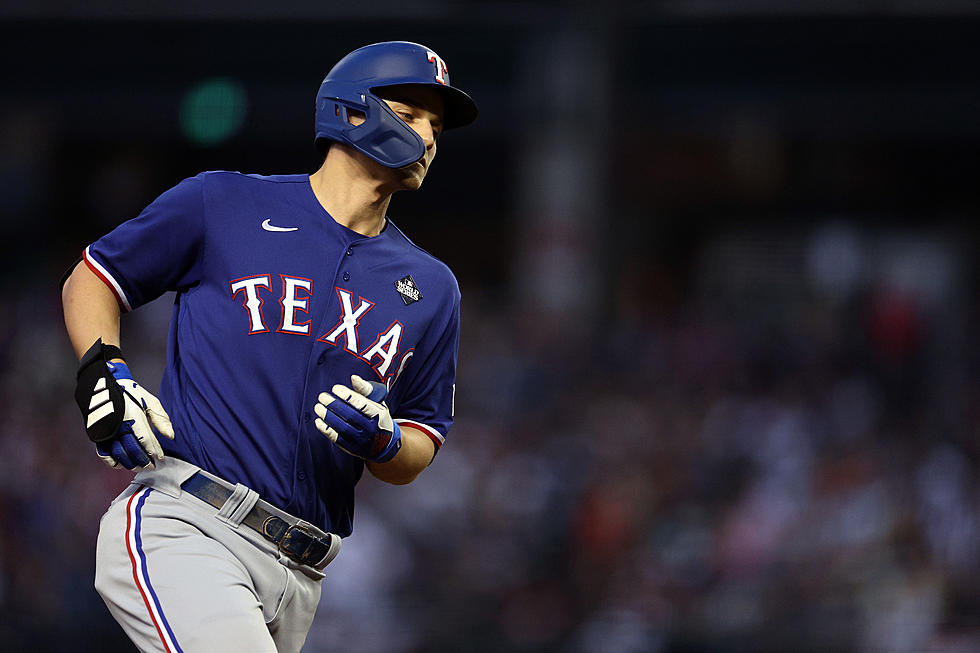 Road Team Rangers Ride 2-1 World Series Lead
Photo by Harry How/Getty Images
PHOENIX -- The Texas Rangers' prowess on the road this postseason has been a source of widespread inquiry but very little explanation. Max Scherzer, whose 2019 Washington Nationals rode a similar run to a championship, was the latest to deliberate on the topic and struggled to explain it himself. Instead, he referenced a trait that transcends the setting.
"Nothing's going to faze us," he said before Sunday's workout. "We've seen it. I feel like I've seen it over my time since I've been here on the Rangers -- that there have been moments where you think the team is going to fold over, and it absolutely snaps back the other way and punches the other guy in the face."
It was obvious once again Monday night.
Scherzer's back spasmed three innings into his start, forcing him to exit Game 3 of the World Series after recording only nine outs. It was Jon Gray, the veteran starter turned temporary reliever, who provided the big punch, delivering three quality innings to hand a small lead over to the Rangers' high-leverage relievers and set the tone in a 3-1 victory over the Arizona Diamondbacks.
The Rangers have now won an unprecedented nine consecutive road games in these playoffs.
Scherzer, who lines up to start a potential Game 7, is hopeful that the back spasms will subside within the next 48 hours but was still very much uncertain when he addressed the media at his locker postgame. Adolis Garcia, the dynamic right fielder who has done most of the heavy lifting offensively this month, had already left Chase Field by then. He was undergoing imaging on his left side after seemingly tweaking his oblique on a swing in the eighth inning, prompting his exit.
Game 4 is Tuesday with Joe Mantiply on the mound for the D-Backs. Andrew Heaney gets the start for the Rangers. The first pitch from Phoenix is just after 7:00 PM on ESPN 102.3/AM 1000 KSOO.
LOOK: 30 Best Major League Baseball Home Run Celebrations Using Props
We examined every Major League Baseball team and found our 30 favorite home run celebrations where players brought props to the party.
Gallery Credit: Rob Carroll
30 Hilarious Minor League Baseball Teams That Sound Fake, But Are Actually Real
We went through every Major League Baseball team's Minor League affiliate list to find the most hilariously creative team names and the ballpark promotions they present to their fans. From biscuits to Mullet Thursdays, here are 30 of the best Minor League Baseball team names and ballpark promotions.
LOOK: MLB history from the year you were born
Stacker
compiled key moments from Major League Baseball's history over the past 100 years. Using a variety of sources from Major League Baseball (MLB) record books, the Baseball Hall of Fame, and audio and video from events, we've listed the iconic moments that shaped a sport and a nation. Read through to find out what happened in MLB history the year you were born.
Gallery Credit: Seth Berkman
More From KSOO-AM / ESPN Sioux Falls