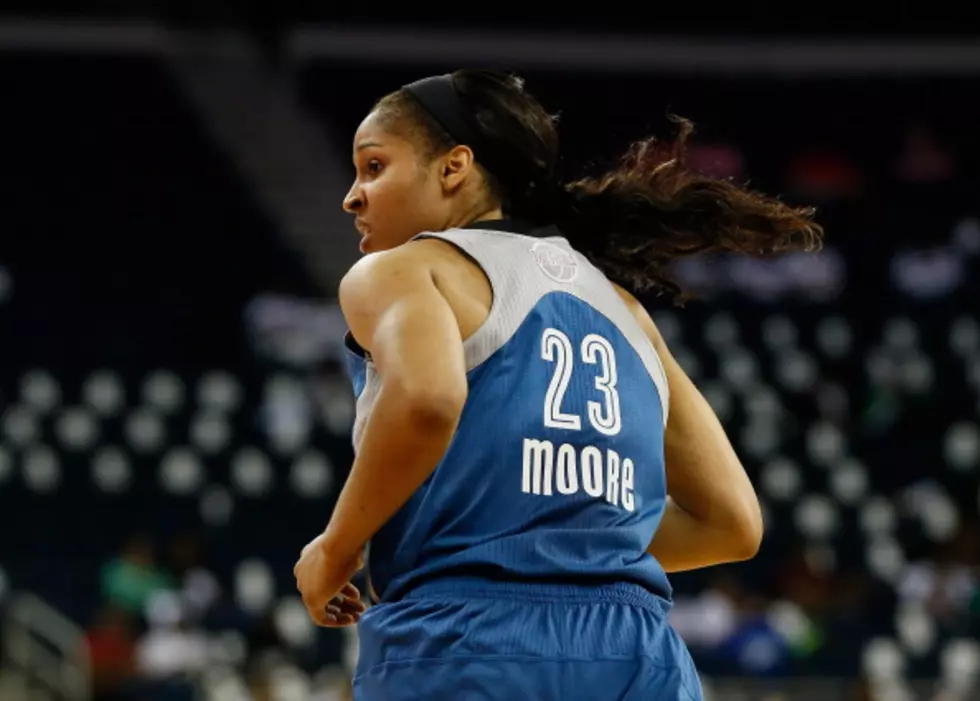 Unstoppable Moore Scores 26 Points To Lead Lynx Past Storm
Kevin C. Cox/Getty Images
Moore scored 16 of her game-high 26 points in the third quarter to lead the Minnesota Lynx to a 77-60 victory over the Storm.
Camille Little led Seattle (9-14) with 17 points, while Temeka Johnson added 12 for the Storm, who have lost four of six.
The game was delayed about 15 minutes late in the second quarter when Storm guard Shekinna Stricklen hit her head on the court after a collision with Minnesota's Tan White.
Stricklen was taken off the court on a stretcher and driven to a local hospital to evaluate a strained neck.
After the game, Storm coach Brian Agler called the situation "pretty optimistic" and said Stricklen did not lose consciousness or feeling in her extremities. She was allowed to fly back to Seattle with her teammates after the game.
Moore, the WNBA's leading scoring at 23.7 points per game, was selected to participate in a celebrity softball game Sunday night that's part of Major League Baseball's All-Star festivities next door at Target Field.
But first, she had some business to take care of against the league's stingiest defense.
For the first 20 minutes, the Storm held Moore to just six points on 2-for-8 shooting. But something changed at halftime. Just don't ask Lynx coach Cheryl Reeve what happened.
"Maybe she made a phone call to her mom, maybe she ate some red velvet cake. I don't know what it was," Reeve said.
"I'm glad she came to for us because we needed her. She was just playing very uncharacteristically off. We'd get her wide open, (and) we haven't gotten her wide open in a long time, and all of a sudden she's shot-faking and jab-stepping and doing some weird stuff, forgetting plays. But she woke up at halftime."
Moore opened the third quarter with a nine-point spurt in the first two minutes to push the Lynx to a 41-28 lead.
She hit a 3-pointer off the second-half tip, stole a pass and drove the length of the court for a layup, then hit a pair of jumpers. She later hit a pair of free throws, made a 20-foot jumper, and converted a three-point play off a low-post move.
She scored 16 of the Lynx's 30 points in the third quarter to put the game out of reach.
Much of Minnesota's success was due to its defense. The Lynx forced six Seattle turnovers in the quarter and outscored the Storm 16-2 in transition for the game. They also outrebounded Seattle 46-27, with Moore grabbing a game-high 12 rebounds.
Janel McCarville scored 13 points while Devereaux Peters added 10 points and 10 rebounds for the Lynx (16-6), who won their third straight and have the best home record in the league at 9-1.
Minnesota guard Seimone Augustus missed her sixth straight game with bursitis in her left knee.
Copyright 2014 The Associated Press. All rights reserved. This material may not be published, broadcast, rewritten or redistributed.
More From KSOO-AM / ESPN Sioux Falls