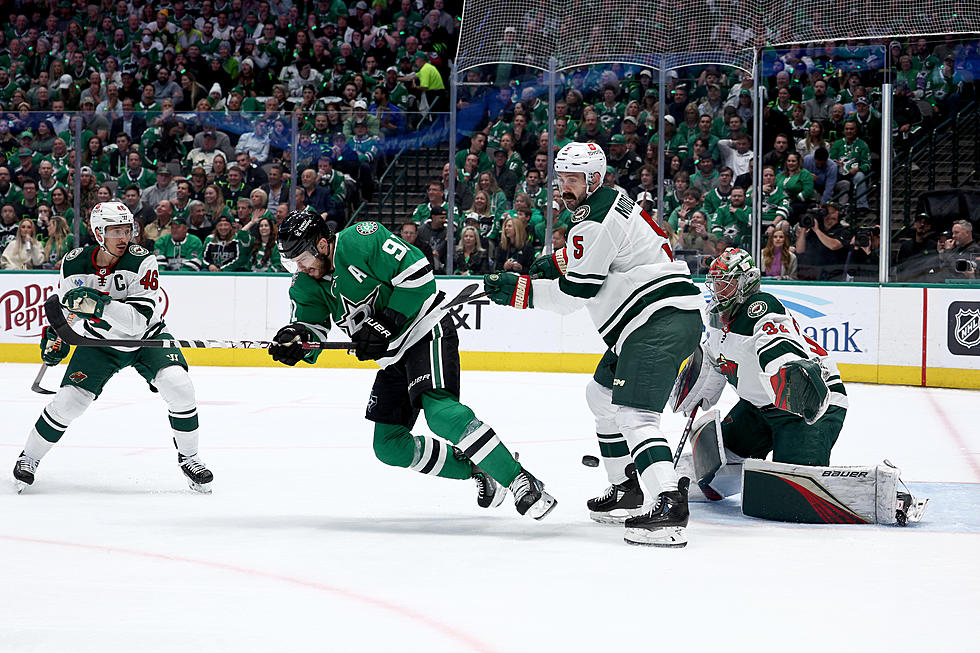 Wild's Foligno Game Misconduct In Game 5 Loss To The Stars
Photo by Tom Pennington/Getty Images
DALLAS -- Wild forward Marcus Foligno received a game misconduct and a five-minute major penalty just more than two minutes into Minnesota's 4-0 loss to the Dallas Stars in Game 5 after a knee-on-knee hit with Radek Faksa on Tuesday night.
Faksa remained face-first on the ice after the collision near the blue line, which came right after he had knocked the puck out of the air with his hand. He had to be helped off the ice once he got up, but he returned to the game midway through the first period.
The major penalty was upheld and the game misconduct was issued after officials reviewed the play.
"It took some life out of us, for sure, with everything that has gone on, the whining and stuff about everything," Minnesota coach Dean Evason said of the officials' decision. "We disagree with it. We don't think he changed his path. ... We watched it several times."
Dallas took a 1-0 lead when Tyler Seguin scored eight seconds into the penalty. That was one of five shots the Stars got on goal in 2½ minutes before defenseman Miro Heiskanen's interference penalty that led to 4-on-4 hockey.
Seguin had two power-play goals in Game 4, which Dallas won 3-2 on Sunday night in Minnesota to even the series at two games apiece. Both of those came after penalties by Foligno.
After the Game 4 loss, Foligno took exception to the two penalties, telling reporters, "It's a joke. It doesn't make any sense." "I go to hit a guy, he touches the puck, it's not interference," he added. "I go and I get high-sticked in the face. It's not a tripping call when you hit a guy clean on. It's bulls---."
There were seven 10-minute misconduct penalties issued in the final 5½ minutes in the last game played in Dallas, which was Game 2 on Wednesday.
The Stars have a 3-2 lead in the series.
The two teams return to the ice for game six in St. Paul Friday.
LOOK: What major laws were passed the year you were born?
Data for this list was acquired from trusted online sources and news outlets. Read on to discover what major law was passed the year you were born and learn its name, the vote count (where relevant), and its impact and significance.
24 Things Minnesotans Have to Explain to Out-of-Towners
We Minnesotans can really baffle out-of-towners from what we eat to what we say to how we survive winters. Here are some things we have to explain to people from other parts of the country.
More From KSOO-AM / ESPN Sioux Falls