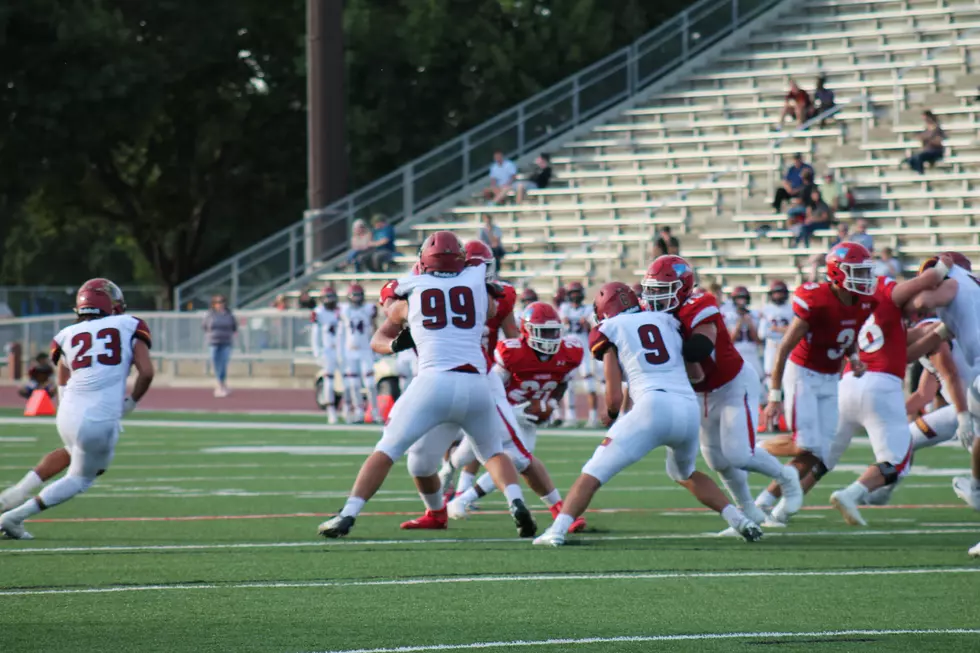 2019 Metro Conference All-Conference Football Selections
Christine Manika/Townsquare Media
Sioux Falls Roosevelt leads this year's list with eight players selected to the first-team on the 2019 Metro Athletic Conference All-Conference Football Team.
The Rough Riders enter this week's semifinal round with a 9-1 overall record. Roosevelt placed a total of ten players between the first-team and honorable mention list, which is good for one-fourth of the total selections for this year's MAC All-Conference Team.
Lincoln added nine players to the overall list, while Brandon Valley provided eight. O'Gorman and Washington had 13 selections between the two schools.
2019 Metro Athletic Conference All-Conference Football Team
Aaron Kusler, LB, SR
Adam Kusler, LB, SR
Ben Kohls, OL, SR
Brady Dannenbring, QB, SR
Caleb Dwyer, DL, SR
Tyler Feldkamp, WR, SR
Michael Paulson, WR, SR
Nathan Moon, DB, SR
Brandon Dannenbring, LB, JR
Tucker Large, DB, JR
Alex Oppold, OL/DL, SR
Jonathan Smith, OL/DL, SR
Sam Siegel, DB, SR
Mitch Eichacker, DL, SR
Hunter Merkley, WR, SR
Tyler Hiatt, OL, SR
Ayden Sand, LB, SR
Isaac Sarbacker, DL, SR
Tommy Thompson, QB, JR
Thomas Scholten, QB, SR
Tate Johnson, RB, JR
Zach Roggow, OT, SR
Parker Reed, DE, JR
Jackson Hilton, WR/CB, JR
Joe Kolbeck, S, JR
Austin Vigants, TE, JR
Zach Bennett, C, SR
Cade Mikuska, DL, SR
Jacob Byrd, DB, SR
Tate Wishard, RB, SR
Tip Reiman, TE, SR
Will Washenberger, OL, SR
Zach Norton, WR, SR
Jonah Wuebben, DL, SR
Brandon Dickens, OL, SR
Randolph Kpai, LB, JR
Ben Peterson, LB, SR
Tyus Hanson, TE, JR
Freddy Frederic, CB, SR
Josh Piper, WR, SO
The Class 11AAA semifinal round takes place on Friday night (November 8) with O'Gorman @ Roosevelt and Washington @ Brandon Valley.