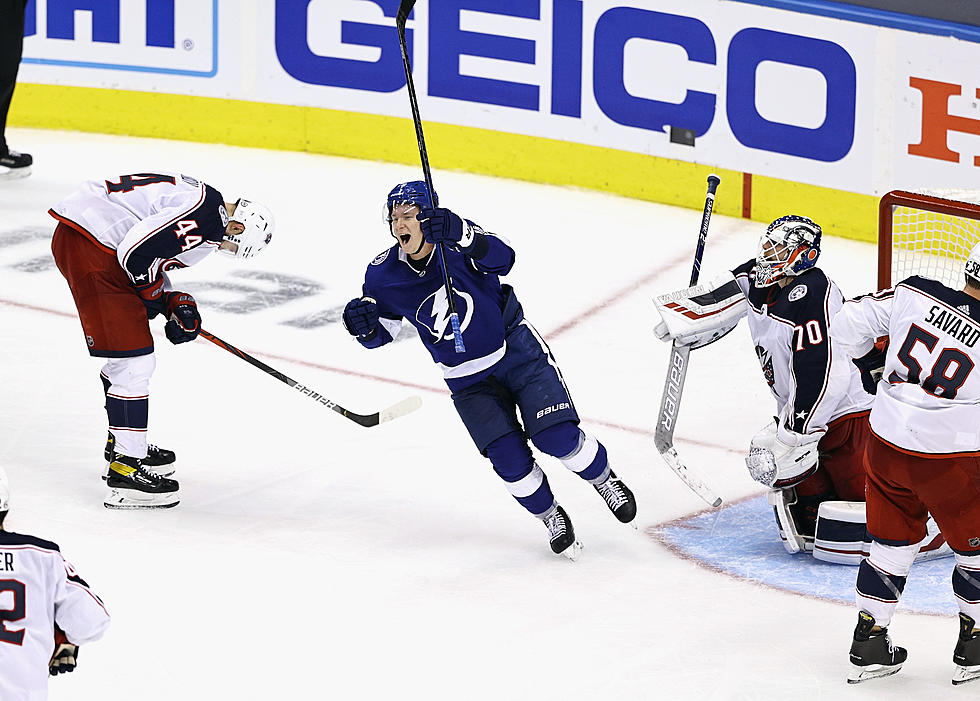 5 Overtimes, Tampa Bay Lightning Win Marathon
Elsa/Getty Images
After six hours, five overtimes, and a combined 151 shots on goal, the Tampa Bay Lightning won an epic Game 1 against the Columbus Blue Jackets on Tuesday night.
It was the fourth-longest playoff game in NHL history -- so long that the Boston Bruins-Carolina Hurricanes game, originally slated for Tuesday was rescheduled for Wednesday at 11:00 AM. It takes arena workers roughly 90 minutes to disinfect the benches and clean the ice between games; including warm-ups, Boston and Carolina faced a start time typically reserved for beer leaguers.
Brayden Point scored 150 minutes, 27 seconds into the contest to give Tampa Bay a 3-2 win. "It was very special," Lightning forward Yanni Gourde said. "We were all exhausted. We were all looking for a goal. When we all saw that go in, it was a lot of emotion."
Blue Jackets goaltender Joonas Korpisalo made 85 saves, a new NHL playoff record -- topping New York Islanders goaltender Kelly Hrudey's previous mark of 73 saves, set in 1987. Columbus blocked 62 shots in the game.
At one TV timeout in the fourth overtime period, the big screen in the fanless Scotiabank Arena announced it was time for a seventh-inning stretch. By the fifth overtime, a new message appeared: "Sorry if you had other plans tonight."
Enter your number to get our free mobile app
12 Sports Video Games I Couldn't Put Down as a Kid