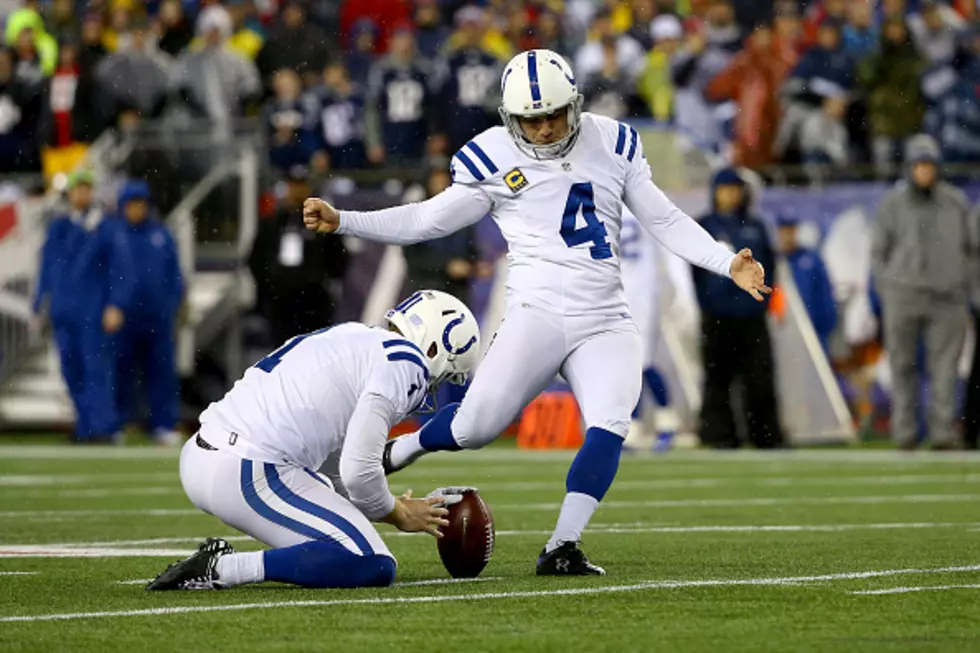 Adam Vinatieri Gets Name Checked in New Rap Song
Getty Images
Quick - you're a rapper and you're desperately searching for a word that rhymes with 'unnecessary'.
So what do you go with: 'scary', 'hairy', 'blueberry'?
For his new song 'Tell Me What You Want?', the artist best known for his top ten 2015 single 'Nasty Freestyle', decided to name check the oldest player in the NFL, 43-year-old Indianapolis Colts kicker - and South Dakota native - Adam Vinatieri.
I took her to the club with me because I know she fire; Bought her (expletive) a new car so she can be my rider.

I had to take her to the crib just to be beside her; Them other girls be hating on, but they don't even try her.

They so unnecessary, cause this is legendary, yeah; And I'm just tryna kick it like I'm Vinatieri.

Do it all, yeah we gonna do it all, yeah; Let me see you throw it back like a booty call.
Make no mistake, the Rapid City native, and former South Dakota State kicker, isn't a rap guy. In an interview with Colts.com a few years ago, he provided some insight on his listening habits:
Unfortunately, when I'm at my house the kids listen to the teeny-bopper, hip-hop stuff. I keep trying to change the channel. I'm more of an acoustic or country guy. I'll hit a Zac Brown Band on my Pandora and let it run. I also like the John Mayer-type music, and some local small bands no one's ever heard of that I listen to.
Vinatieri has made 503 regular season field goals in his 20-year career. He's added an other 56 in the post season, including game winners in Super Bowls XXXVI and XXXVIII. He is a sure fire, first ballot Hall of Famer.
I wonder if T-Wayne can work up a Hall of Fame song for his favorite kicker when Vinatieri gets his gold jacket in Canton, Ohio one of these years.
Here is the complete song (WARNING! Some lyrics NSFW):
More From KSOO-AM / ESPN Sioux Falls