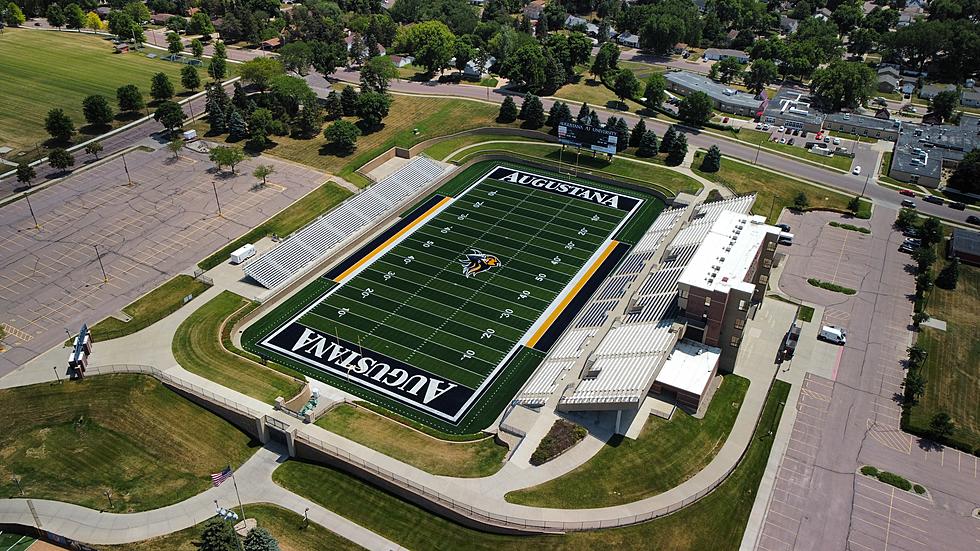 Augustana Football Rises in Latest Poll Ahead of Mankato Game
Augustana KO Stadium Courtesy of Augie Sports
The Augustana Viking Football program is out to a tremendous 7-0 start to the season.
After another impressive road win, this time over Winona State, the Vikings have continued their ascent in the latest AFCA poll.
Augie has made the move all the way up to #17 in this week's release, but their opponent this weekend remains in the top 5.
Augie locks horns with Minnesota State this Saturday at Kirkeby-Over Stadium, and safe to say it will be well worth the price of admission.
Here are the complete rankings for the week:
Dropped Out: Henderson St. (Ark.) (18)
Others Receiving Votes: Virginia Union, 45; Valdosta St. (Ga.), 42; Texas-Permian Basin, 27; Charleston (W.Va.), 21; Minnesota-Duluth, 15; Henderson St. (Ark.), 13; Southern Arkansas, 12; Missouri Western St., 10; Central Washington, 4.
Don't miss out on this marquee DII matchup right here from Sioux Falls this weekend. Find tickets, game notes, and much more as always at GoAugie.com!
Source: AFCA Polls
Best Bars in Sioux Falls
There is always something different to try when you visit a local
Sioux Falls
bar or brewery. There could be a specialty drink at one bar and a new beer recipe at the next. It's kind of like a smorgasbord of drinks to taste test. The only problem is deciding which bars are the best bars in Sioux Falls to explore with your family or friends?
This is a difficult decision just because there are so many great local options. Luckily, our friends at
Yelp
identified the top ten bars in Sioux Falls thanks to numerous reviews on each establishment.
The next time it's your turn to select a bar for a night out on the town, be sure to visit one of these ten bars highly reviewed by
Yelp
.
Gallery Credit: Christine Manika
10 Reasons NOT To Move To Sioux Falls ;)
Sioux Falls
is a special place. There is really no place else in the world quite like it. It is a unique spot of shining joy on the edge of the plains. But, if someone is planning to move here, there are a few things to know...
Worst Parking Lots in Sioux Falls Metro
Let's face it, some of the parking lots in the
Sioux Falls
metro are pretty hard to navigate. Sometimes it feels as though you're taking a risk driving through them on a busy day.
We made a list of some of the worst parking lots in the Sioux Falls Metro. Be extra careful while guiding your vehicle in these tricky lots.
Is the parking lot you dread driving in the most on this list? Take a look and find out.
More From KSOO-AM / ESPN Sioux Falls