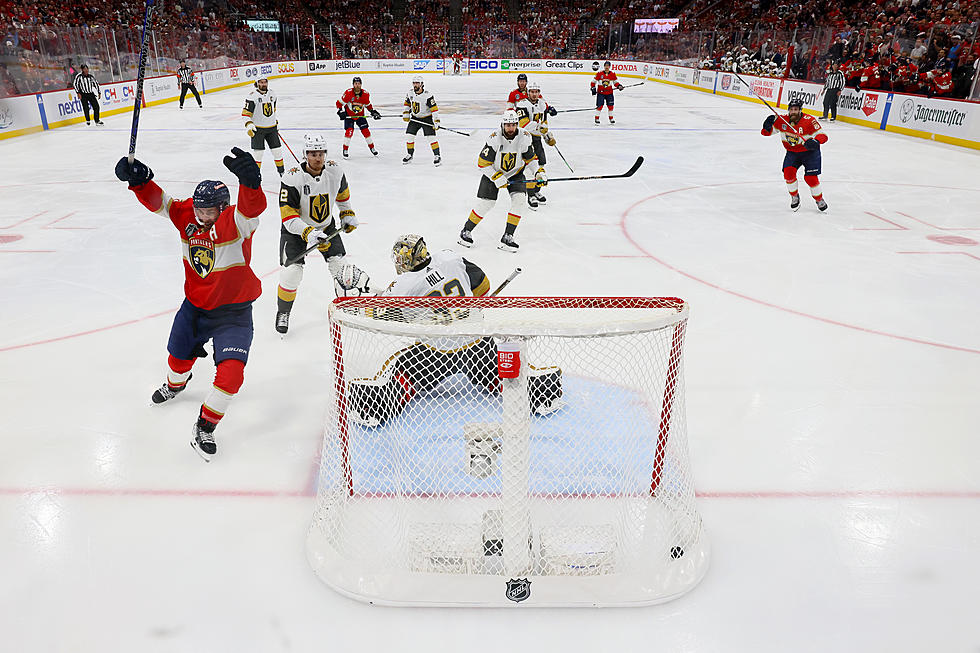 Florida Panthers Rally Top Golden Knights In Stanley Cup Final Game 3
Photo by Bruce Bennett/Getty Images
SUNRISE, Fla. -- The Cardiac Cats are back. The Florida Panthers 3-2 overtime win in Game 3 of the Stanley Cup Final on Thursday night cut the Vegas Golden Knights' series lead to 2-1. Matthew Tkachuk tied the game with 2:13 left in regulation. Carter Verhaeghe scored 4:27 into the extra session to win it and, in the process, pushed the Panthers' overtime record to 7-0 in the playoffs.
Tkachuk said after two disastrous games in Vegas to open the series, the Panthers felt many didn't believe they could rally in the series.
"I mean, they all counted us out before the Final even started," Tkachuk said. "We're that type of team where we know what the end goal [is]. We don't know how we're going to get there, but we're going to do everything we can to get there."
The victory didn't just get Florida back in the series -- it was a historic moment in franchise history. This was the Panthers' first-ever win in a Stanley Cup Final game, having been swept by the Colorado Avalanche in 1996 and losing the first two games of this series in Vegas.
At the heart of that winning effort were three players: Tkachuk, Verhaeghe and goaltender Sergei Bobrovsky, all of whom made the difference in Game 3.
For Vegas, it was the first time in 11 games in which it held a lead after the second period and lost.
Game 4 is scheduled for Saturday night in Sunrise. Tkachuk said the mission doesn't change for the Panthers.
LOOK: The 25 least expensive states to live in
18 Annoying Things that People in the Midwest are Doing
You know those Post-it notes that you used to put up on your mirrors or around your house to remind you of different things. Well, some people in Minnesota, Iowa, and Wisconsin could use a whole pile of those to put up all over their world because they need some refreshers on a few basic things. Most are about driving but there are a few other moments in life that you'll realize annoy you too.
More From KSOO-AM / ESPN Sioux Falls