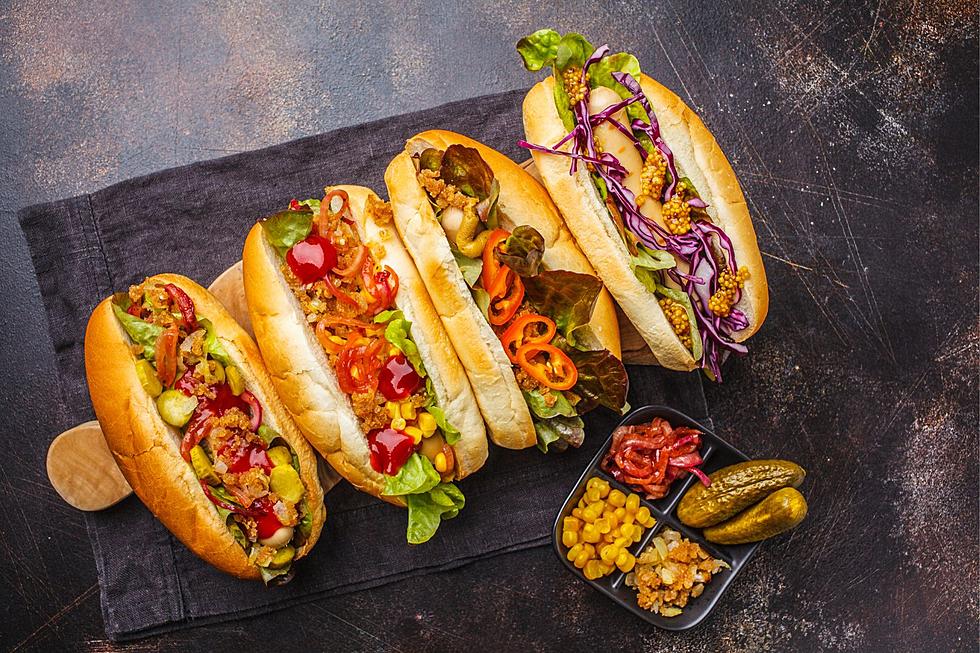 BORING! Your Hot Dog Bun Needs These Six Make-Over Ideas
Canva
If you love attending sporting events then you've had your share of hot dogs. And, if you are a parent I suppose you've had way more hot dogs than you'd like to admit.
It's the same old easy standby. Hot dog, hot dog bun, ketchup, mustard, and relish. It's like another old standby, the PB&J. Simple. Affective. Satisfying, to a certain point.
You may agree that changing up the old standby can have its advantages. So, let's work on that theory and give our hot dog bun a makeover. How about some options?
First, let's take care of the kids. Leaning back on that other old standby, the PB&J.
PB&J Dog
A smear of peanut butter and a smear of jelly. No rocket science here. But wait! You're not done yet. Let's take it to the next level and add a half banana then sprinkle M&M's. Spray on the Reddi Whip and now you have your PB&J Banana Split!
Omelette Dog
This one is perfect for camping. First, you'll need quart-size freezer Ziploc bags. Take two eggs, and beat with salt & pepper. Add cooked, crisp, crumbled bacon and cheddar cheese. Squeeze all the air out and seal. In a pot of boiling water add the bags for about 4-5 minutes or until the eggs set. Roll out onto the hot dog bun and enjoy with your morning coffee by the campfire.
Shrimp Sizzler Dog
Peel, season and sauté fresh shrimp in butter. While this is sizzling away, grab your steamed bun and lather it up with guacamole. Don't overcook the shrimp, like Dad charred the hot dogs. You can chop the shrimp or leave them whole. It will taste even better while you have a cold beer in the other hand.
Veggie Dog
You will need some prep time with this one. First, roast two or three bulbs of garlic until soft. Toast your buns and keep warm. I like to use slices of room-temp Brie cheese after you spread pesto on the bun. Now, back to the garlic. Pop out those little guys with a potato peeler and mash in a bowl. Add this to the bun and top with fresh basil leaves and thin slices of pickled onion. I'm proud of this one because garlic, onion, and the ingredients for the pesto came right out of my garden.
Dessert Pizza Dog
Grandma will like this one. A frozen bun is how you begin. Slice in half and set aside. Softened cream cheese is your base. Use any fruit you have on hand. Spread each half of the bun with the cream cheese mix, add the fruit and if your herb garden has mint, this treat will make it pop. No mint, no problem. Drizzle some aged balsamic vinegar down the middle. Fold each half together, and seal in a bag overnight. In the morning remove from the bag and wrap in tin foil. Warm them in the oven or next to the campfire.
Roast Beef Dog
If you have some of that roasted garlic left this is where it goes. Actually, everything here will be leftovers. Okay, buckle up. Your toasted bun gets a thick layer of mashed potatoes. Hopefully, they were the heavy dense kind with the peelings. Next comes the chopped roast beef, some of those onions that were in the bottom of the pan, and a large ladle of that homemade gravy. Ahhhh, comfort food!
Ways To Up Your Grilling Game
A variety of tips and suggestions to improve your results with backyard grilling or cooking in general. Some of these are new ideas, some might be reminders of old-knowledge - but they're all good things to keep in mind when barbecuing.
Where To Eat When Traveling South Dakota, Here's 20 To Choose From
20 South Dakota Restaurants
Beef Steaks, Ham, and Other Groceries That Rose in Price in the Midwest
More From KSOO-AM / ESPN Sioux Falls