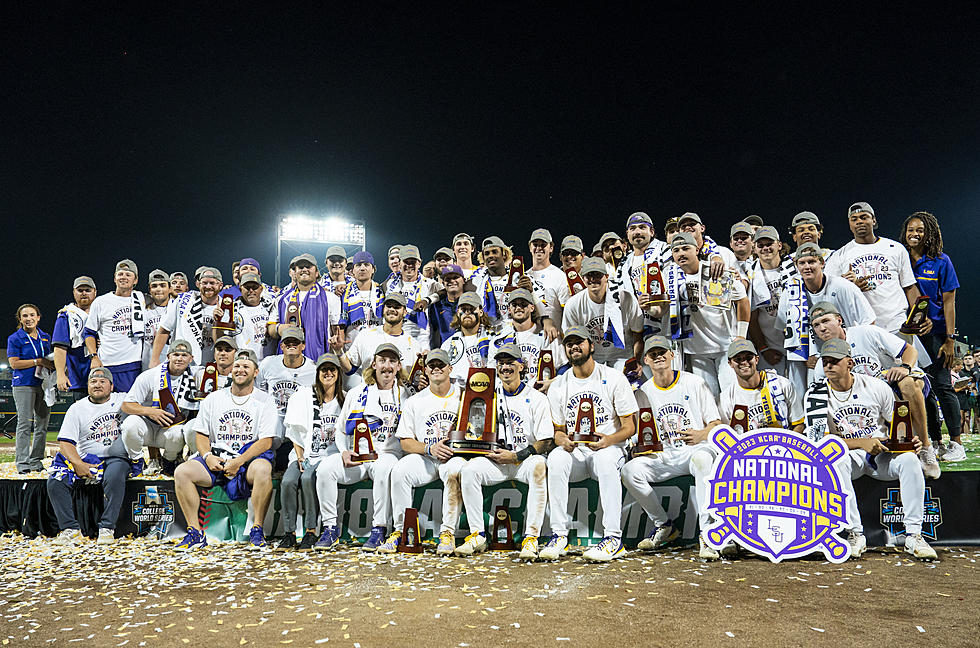 LSU Wins 7th Men's College World Series Championship
Photo by Jay Biggerstaff/Getty Images
OMAHA, Neb. -- LSU went from its low point of the season to the ultimate high in a span of 24 hours.
A day after it gave up the most runs ever in a Men's College World Series game, LSU cranked up its offense and won its first national title since 2009 with an 18-4 victory over Florida on Monday night in the third and deciding game of the finals.
LSU (54-17) staved off elimination three times in bracket play and bounced back from the humiliating 24-4 loss in Game 2 to claim its seventh championship, second in Division I history to USC's 12.
"We got punched in the mouth yesterday," Tigers star Dylan Crews said. "That's the beauty of baseball. You wake up in the morning and do it all over again. We woke up today and you could see on everybody's faces that we were ready to go. Nobody in the country was going to beat us today."
The Tigers wiped out an early 2-0 deficit with a six-run second inning against Jac Caglianone (7-4). The runs kept coming until they finished with the most in a title game since USC's 21-14 win over Arizona State in 1998. The 14-run margin was the largest ever in a final. Their 24 hits were the most in an MCWS game.
Cade Beloso said Johnson's message to the team in the morning meeting was simple.
"It was, 'One game for the national championship. Are you in?' Everybody was, 'Yeah, let's go.' You can't let baseball get to you," Beloso said. "The game is brutal sometimes. You have to show up and play the next day."
By The Numbers:
• 7th MCWS title, breaking tie with Texas for 2nd-most in Division I history (USC has 12)
• 9th title for SEC in past 14 MCWS (6 different SEC schools have won a title since 2009)
• 18 runs are the 2nd-most in a national championship game (USC def. Arizona State 21-14 in 1998)
• 3rd time Tigers have scored at least 10 runs in the national championship game, matching Arizona State for most in MCWS history
• 3rd team to knock out top 2 national seeds en route to a national championship since seeding began in 1999 (South Carolina in 2011, Cal State Fullerton in 2004)
LSU became the first Division I school to win a baseball and basketball (men's or women's) national championship in the same year.
Ten Most Iconic Uniforms in College Sports
30 famous people you might not know were college athletes
Stacker
dug deep to find 30 celebrities who were previously college athletes. There are musicians, politicians, actors, writers, and reality TV stars. For some, an athletic career was a real, promising possibility that ultimately faded away due to injury or an alternate calling. Others scrapped their way onto a team and simply played for fun and the love of the sport. Read on to find out if your favorite actor, singer, or politician once sported a university jersey.
More From KSOO-AM / ESPN Sioux Falls