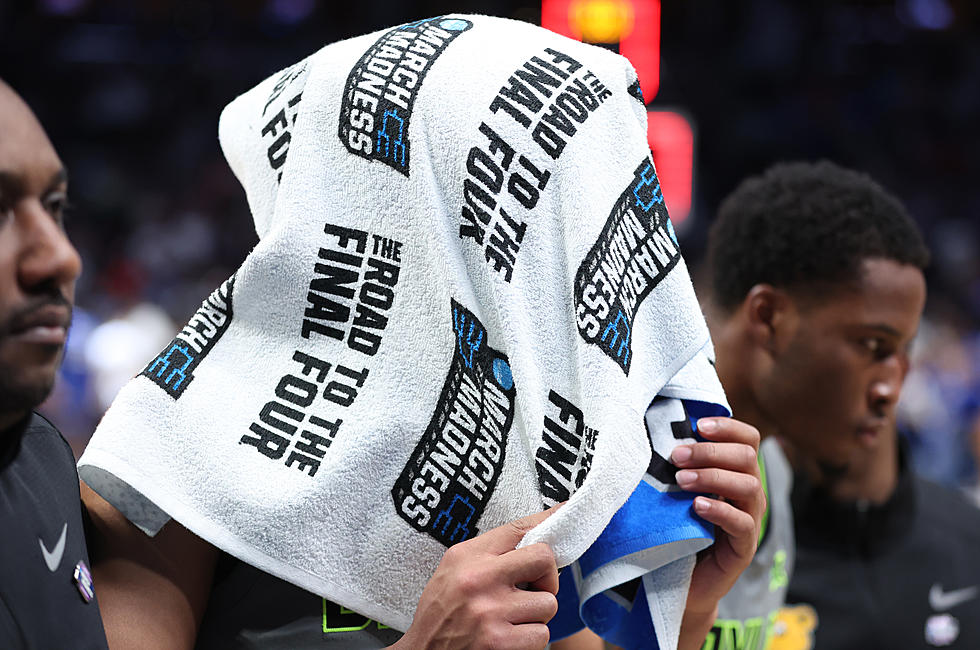 March Madness: Sweet 16 begins from NYC to Las Vegas
Photo by Sean M. Haffey/Getty Images)
March Madness has reached Sweet 16 weekend. Two No. 1 seeds, Kansas and Purdue, are already gone along with millions of busted brackets and a host of bluebloods including Kentucky, Duke, and Indiana —though UCLA's drive for a 12th national title remains alive.
Who's going to win the national championship? The betting favorites earlier this week (in order): Alabama, Houston, UConn, UCLA, Creighton, and Texas, according to FanDuel Sportsbook.
No. 4 seed Connecticut (27-8) vs. No. 8 seed Arkansas (22-13), Thursday, 7:15 p.m. ET (CBS)
The Huskies reached the Sweet 16 for the first time in nine years after outclassing Saint Mary's behind 24 points by Adama Sanogo and timely 3-point shooting. The Razorbacks of coach Eric Musselman will look for another signature win — and perhaps a breakout game from Nick Smith Jr. — after ousting defending champion and top-seeded Kansas.
No. 2 Kansas State (25-9) vs. No. 7 Michigan State (21-12), Thursday, 6:30 p.m. ET (TBS)
Tom Izzo and Michigan State are in the Sweet 16 for the 15th time and first in four years after beating No. 2 seed Marquette. At Madison Square Garden — in a New York City reunion for players on both teams — the Spartans will face a Kansas State team that was picked to finish last in the Big 12 under first-year coach Jerome Tang but got 27 points from Markquis Nowell in dumping Kentucky.
No. 5 seed San Diego State (29-6) vs. No. 1 seed Alabama (31-5), Friday, 6:30 p.m. ET (TBS)
The Aztecs are in the Sweet 16 for the first time since 2004 and have won 11 of their last 13. They will need balanced scoring against the Crimson Tide, who handily dispatched Maryland. All-America freshman Brandon Miller, who is playing in the shadow of a fatal shooting case back in Alabama, had 19 after going scoreless in the first round.
No. 3 seed Xavier (27-9) vs. No. 2 seed Texas (28-8), Friday, 9:45 p.m. ET (CBS)
The Musketeers are in the Sweet 16 for the first time since 2017 and will face a Texas team that hasn't been there in 15 years. Xavier put on a clinic on unselfishness in the first half of its 84-73 victory against Pittsburgh, totaling 17 assists on 19 made field goals. The Longhorns made just one 3-pointer in 13 tries in their 71-66 victory against Penn State, but Dylan Disu had a season-high 28 points.
4 Tennessee vs. 9 Florida Atlantic, Thursday, 9 p.m. (TBS) 2 UCLA vs. 3 Gonzaga, Thursday, 9:45 p.m. (CBS) 1 Houston vs. 5 Miami, Friday, 7:15 p.m. (CBS) No. 6 Creighton vs. No. 15 Princeton, Friday, 9 p.m. (TBS)
The 2023 Final Four is in Houston, on April 1, with the championship game on April 3.  The women's NCAA Tournament will hold its Final Four in Dallas
Sioux Falls South Dakota Brewery Guide
As you enjoy your time in Sioux Falls for business or pleasure, don't be afraid to take the time to find out what the locals enjoy. Including the craft breweries.
South Dakota College & University Mascots
More From KSOO-AM / ESPN Sioux Falls