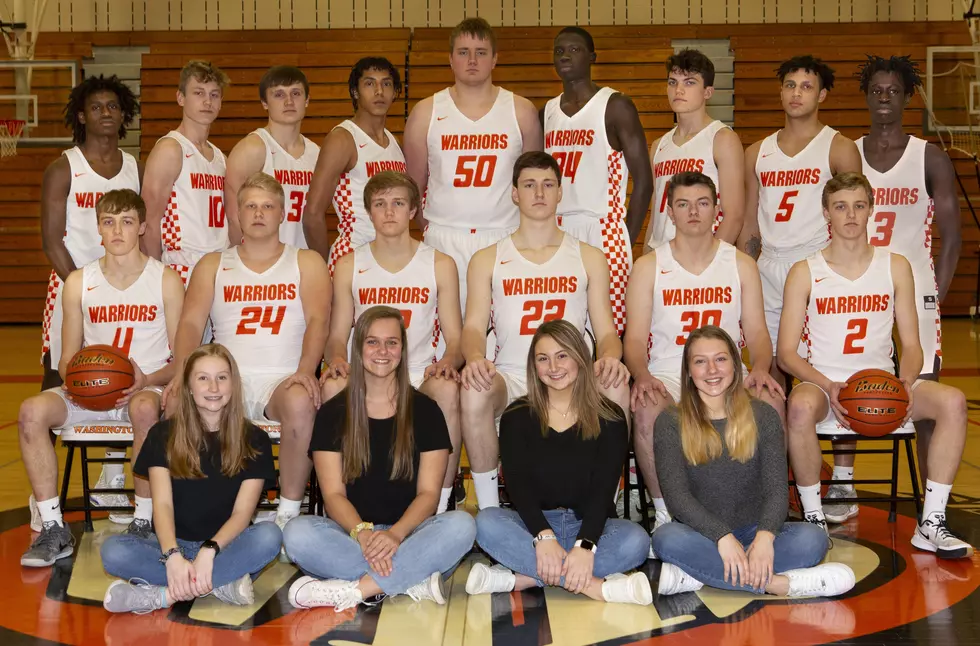 Senior Spotlight: Washington Warriors Take the Steady Climb to the Top
Courtesy: Washington Warriors. Used with Permission
While the talk of Class AA was focused on other teams, six seniors led the Washington Warriors to the best record over the final 13 games of the regular season.
After a 3-5 start to the season, Washington quietly started taking over Class AA one game at a time. Coming off a win over Harrisburg on January 24, the Warriors had the chance to flip the season playing at Brandon Valley. Washington escaped the Lynx gym with a 64-58 2OT win that set them up for a strong run to the finish line. The Warriors ended the regular season winning 10 of the last 12 games played.
Leading the way was a group of six seniors that have been together for a long time including two brothers that have been together since the day they were born. Kemmer Schramm, Dagen Schramm, Nate Gilbertson, Ganin Thompson, Cole Hulstein, and Kyle Rygg jolted the Warriors program back from missing the state tournament last year to the fourth overall seed this year.
"I don't think I've ever had a group improve as much as this group. We got our butts kicked early in the season in double-digit losses to all of the best teams in AA. We started the season 3-5, and yet this group never lost faith, even when we lost 4 in a row. They had the right "process" the whole time. They kept practicing hard, they never blamed one another, they held each other accountable, and just kept being coachable. It took us a good month to 6 weeks to figure it out, but once we did, it was really good basketball to watch. They played as hard and as unselfish as any group I have ever coached." - Craig Nelson, Washington Head Coach
Started every game this year for Washington and played off the bench during his junior year.
Averaged 8.9 points/game and totaled 40 assists and 28 steals for the year. Led all starters in 3PT% at 36% and FT% at 89%.
"Plays very, very hard and is a great defender. Kemmer shot really well from three." - Craig Nelson
College: South Dakota State
Started every game this year for Washington and played off the bench during his junior year.
Averaged 5.5 points/game and was second on the team in assists for the year at 47 (Team-high 68 by Eli Williams). Shot 51% from the field and 35% from 3-point land.
"Very solid overall player. Unselfish and a great defender. Dagen has no weaknesses on the court." - Craig Nelson
College: South Dakota State
Started three games as a junior and every game during his senior year.
Second, on the team in total points scored. Averaged 11.1 points/game and 5 rebounds/game. Added 21 assists, 5 blocks, and 11 steals to his stat totals this year.
"Nate improved in the weight room a ton in the off-season which helped his explosiveness off the dribble and elevating at the rim. He's a really good shooter and a long-athletic guard." - Craig Nelson
College: University of South Dakota
A full two-year starter for Washington. Started 22 games as a junior and all 21 games during his senior year.
Led the Warriors in points scored this year. Averaged just under a double-double per game at 13.1 points and 8.6 rebounds. Thompson also added 23 blocks in the 21 games played.
Records/Awards: Named Metro All-Conference in both junior and senior seasons. Set the Washington record for most charges taken in one season (22) this year.
"Ganin is a big, strong kid. He has nice, strong moves in the post and is a great rebounder." - Craig Nelson.
College: Michigan State (Baseball)
Cole was unable to play for almost all of the season after tearing his ACL during the football season.
He did make an appearance with 30 seconds left in the final regular-season game against Aberdeen Central.
His Dad, Mike, has been on the Washington coaching staff under Craig Nelson for the last eight years.
"Mike was very emotional during this time (seeing his son take the court in the final game) and all the players were coming around him and hugging him and consoling him. It was a pretty cool moment."
College: South Dakota State
Appeared in 15 games this season and made a couple of starts. Played 81 minutes throughout the year.
Averaged about 1.1 points/game. Shot 40% from the field and most of his shots were from 3-point range. Grabbed 11 rebounds and three steals.
"Kyle is a great kid and is the ultimate teammate and leader. He's the best shooter on the team." - Craig Nelson.
College: North Dakota State
Congratulations to the Washington Warriors for a great 2019-2020 basketball season and to all the seniors on a memorable final season!
In conjunction with Scott Van Pelt's Senior Spotlight, each day ESPN 99.1 will highlight our local seniors for their accomplishments on the court throughout their careers.
Enter your number to get our free mobile app