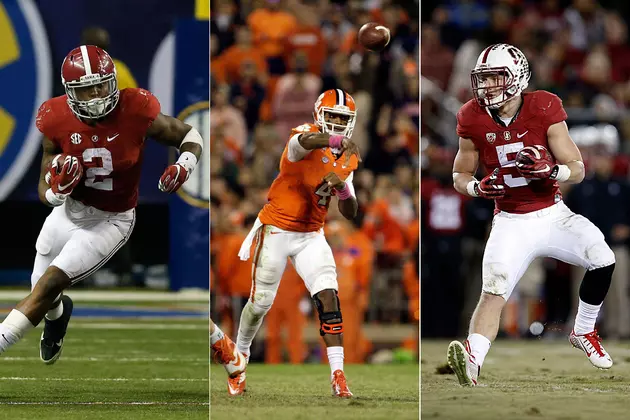 Who Should Win the 2015 Heisman Trophy? [POLL]
Getty Images
And then there were three.
Alabama running back Derrick Henry, Clemson quarterback Deshaun Watson and Stanford running back Christian McCaffrey will converge on New York City on Saturday, when one will be named the Heisman Trophy winner. If you're looking for trends, keep in mind the last five winners have all been quarterbacks.
It appears to be a tight race with no one player separating himself from the field, as has been the case most of the year (with the exception of LSU's Leonard Fournette, who seemed to be the favorite in the first half of the season before fading).
It's expected to be a close vote. The closest vote in Heisman history took place in 2009 when Alabama running back Mark Ingram won, edging Stanford's Toby Gerhart. Ironically, both schools are represented again this year.
Derrick Henry
Henry may be a slight favorite. His bid to become just the second 'Bama player to win college football's most coveted award is boosted by a strong resume. He's the nation's leading rusher with 1,986 yards, which topped former Heisman winner Hershel Walker's SEC record. He also scored 23 touchdowns and had four 200-yard rushing games.
Deshaun Watson
The best player on the best team, Watson is the key cog on the nation's only undefeated team. A sophomore, he is the first Clemson player to ever finish above sixth in the Heisman voting. He racked up 4,399 yards of total offense and 41 TDs. He is the only player in America to eclipse 800 yards on the ground and 3,500 in the air.
Christian McCaffrey
McCaffrey had 3,496 all-purpose yards, smashing the single-season record set by Barry Sanders in his Heisman-winning campaign in 1988. He averaged a hard-to-believe 8.5 yards per touch. He scored 13 touchdowns and threw for a pair. In the Pac-12 title game, he finished with 461 yards. He's looking to join Jim Plunkett as the only Stanford players to win the Heisman.
More From KSOO-AM / ESPN Sioux Falls