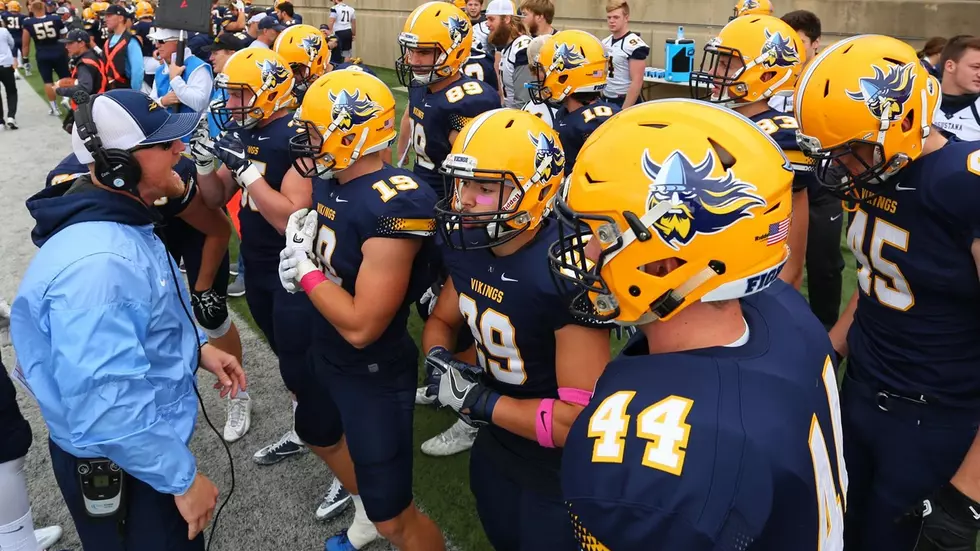 Augustana Vikings Leap Up to #13 in Rankings After Close Win
Augustana University with per mission
Picking up the wins you are supposed to early on in the regular season goes a long way for a team as far as reaching their goals down the road.
The Augustana Vikings football team endured a late surge from Bemidji State this past weekend to hang on to the 30-29 victory, and now have jumped in the latest rankings.
In the latest AFCA poll, the Vikings have gone from the 19th to the now 13th ranked team in the country in the DII poll.
Augie led late in their home opener to the Beavers 30-16, but the final minutes were not easy. The Vikings would fend off a late 2-point conversion try to win by the Beavers to earn the victory.
Here is the latest poll from the American Football Coaches Association:
Dropped Out: Nebraska-Kearney (11), California (Pa.) (17), Colorado St.-Pueblo (21t)
Others Receiving Votes: Washburn (Kan.), 102; Virginia Union, 97; Nebraska-Kearney, 81; Tiffin (Ohio), 51; Henderson St. (Ark.), 48; Colorado St.-Pueblo, 46; West Alabama, 43; Frostburg St. (Md.), 33; Kutztown (Pa.), 30; Indiana (Pa.), 25; Missouri Western St., 21; California (Pa.), 18; Assumption (Mass.), 10; Colorado Mesa, 4.
The Vikings are back out on the road this weekend, traveling to face the MSU-Moorhead Dragons in Week 3. As for the USF Cougars, they hit the road as well, and take on Concordia St. Paul.
Source: AFCA.com
Worst Places to Live in South Dakota
A surprising town was named the worst place to live in all of
South Dakota
and the reason behind it is a bit unexpected.
Money Inc.
made a list of the 20 worst cities and towns to live in all of South Dakota and no part of the state is left unmarked.
The list focused on a number of key factors, including crime rate, unemployment, low wages, and school funding.
So which city is the "worst" in South Dakota, according to the article? Read on:
More From KSOO-AM / ESPN Sioux Falls