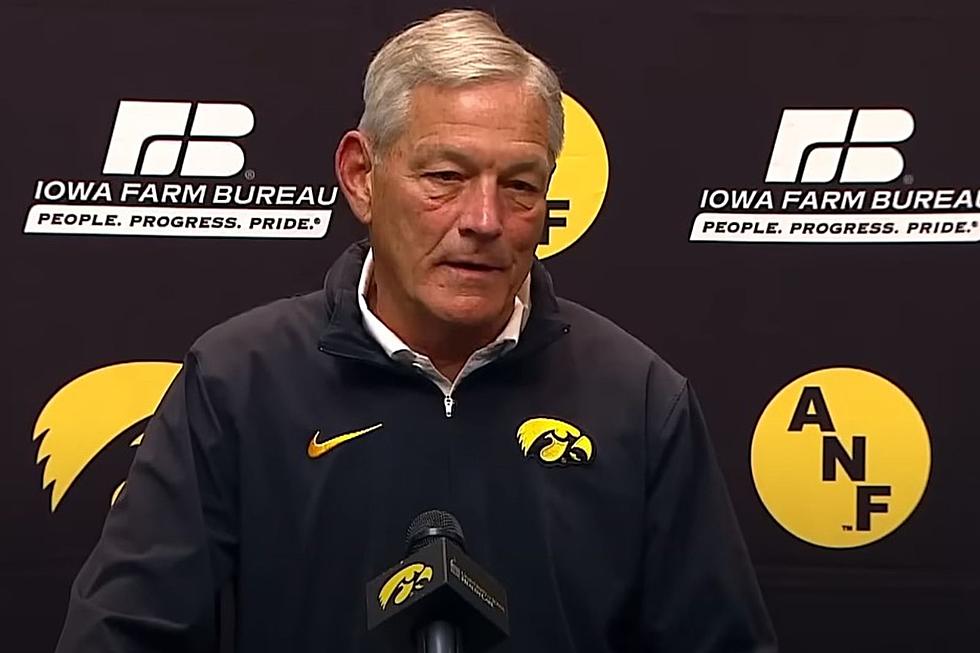 Iowa's Kirk Ferentz Hopes Fine Will 'Go Towards Good Cause'
Iowa Hawkeyes via YouTube
The Iowa Hawkeye and Minnesota Gopher game had one of the strangest endings I've ever seen in my 32 years of watching various levels of football. With 1:40 left on the clock, Cooper Dejean returned a punt for a touchdown that, in all likelihood, would've sealed the game for the Iowa Hawkeyes and it would've handed Minnesota their 25th loss in a row at Kinnick Stadium.
That would've been an exciting way for the game to end if the punt return for a touchdown would've stayed on the board. Instead, the play was reviewed, and it was deemed an "invalid fair catch signal" and the ball was placed on the 46-yard line. The Gophers would go on to win the game 12-10 and this was Gopher head coach, PJ Flecks, first win against the Hawkeyes.
Obviously, Iowa fans throughout Kinnick hated the call. There was a stoppage of play as fans began to throw garbage on the field and it was a very strange/wild scene for a few minutes while I was watching the game.
While I was initially watching the game live, I thought Cooper did signal a fair catch when he took off running towards the ball. I figured I hadn't been paying close enough attention and assumed the game was basically over after he crossed the goal line. After watching the replay, I told myself I was wrong and that he was just running naturally. That's not how the replay officials saw it.
I was born in Minnesota and normally cheer for Minnesota teams but this Gophers program will forever and always remain average to maybe slightly above average every 5th season. I don't really get excited when they play anymore.
I will add that this might be one of the weakest overturned touchdown calls I've ever seen. No fan wants to win a game on a call like that and on the other side of the coin, no fan wants to see a team lose a game because of that decision. What's even crazier is if Cooper doesn't score and is tackled at the 20...they don't overturn that call. It was only reviewed because he scored. YIKES.
Kirk Ferentz
In the post-game press conference, Kirk Ferentz didn't hold back when it came to the officiating on that particular play. He opens the post-game press conference by saying
"I'll start off by saying that whatever I do say, hopefully, if the Big 10 deems it necessary to fine me, hopefully they'll find it in their hearts to send it to a good cause. Like, the children's hospital would be a good place to start."

 
That wasn't the only play that Ferentz made a statement on either. There was also a review on a hit by Karson Shera that wasn't called on penalty on the field but after the review was completed, he was ejected from the game for targeting.
There were 6 reviews during this football game...SIX! I know college football wants to make sure that they get the calls correct on the field and hopefully, these reviews impact the game in a fair and positive manner but in my opinion, 6 reviews are too many. I'm not sure I've ever watched a football game with that many reviews.
Opinion
In all fairness...neither team wanted to win that game. While I was watching from my couch, I've never been less into an Iowa vs Minnesota game. It's always been a great rivalry game, no matter which team you cheer for but that game flat out stunk and was terrible to watch. According to ESPN, Iowa's offense currently ranks dead last in yards per game and Minnesota isn't too far ahead, as the Gophers are 11th to last in yards per game.
The Hawkeyes gained 2 total yards of offense in the second half. To put that into perspective, if you're 6 feet tall and fall straight forward, you'd fall 2 yards. The Gophers had no desire to score any touchdowns and decided to settle on 4 field goals in the second half. I'm not saying I want to see games with a score of 50-49 but 24-21 would be a nice change of pace. I suppose if you're a fan of defense, that was the most exciting football game of the year.
At the time of writing, it has not been announced if coach Kirk Ferentz will be or has been fined. If he is, I hope his wishes are granted and the money will go towards the hospital. What a strange game.
My colleague grew up in Iowa and has been a Hawkeye fan his entire life. I think he might be taking a break from the football program for the rest of the season.
Iowa Born Sports Stars
What do each of these stellar athletes have in common? They all hail from the Hawkeye State.
Gallery Credit: Johnny Marks
LOOK: Which movies were filmed in Iowa?
Stacker
compiled a list of movies filmed in Iowa using data from
Movie Locations
, with additional information about each film collected from
IMDb
.
Gallery Credit: Stacker
More From KSOO-AM / ESPN Sioux Falls