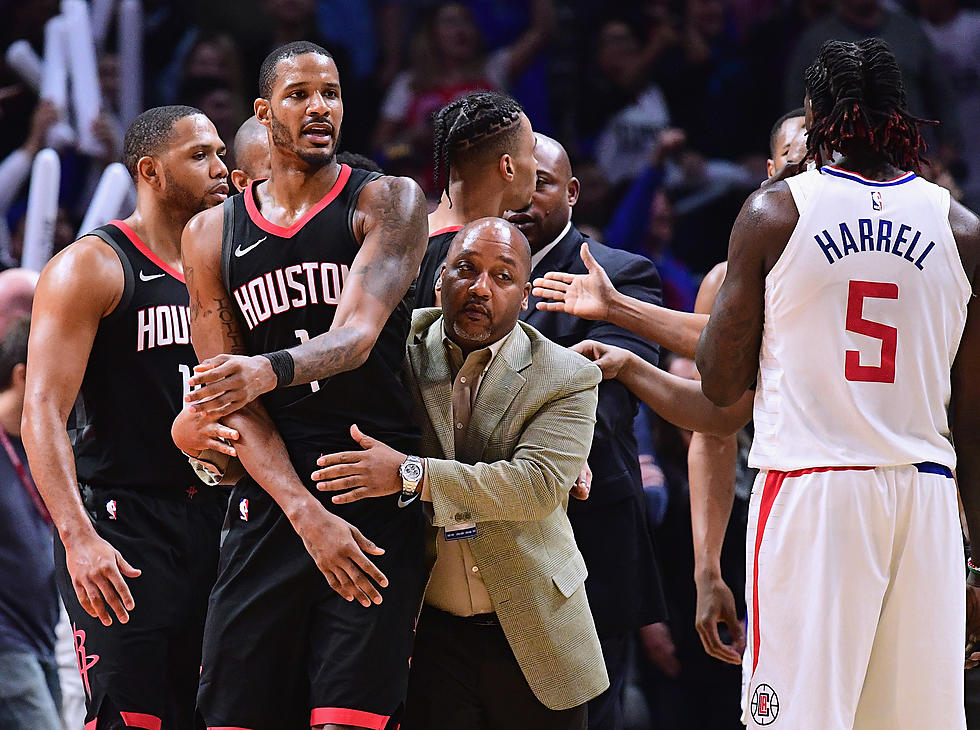 It's Time The NBA Gets A Handle On The Fighting
Getty Images
Yeah it's entertaining. Yeah it's fun to see grown men in serious competition. Yeah it's even fun to see some pushing and shoving sometimes. It's apart of the game, however, the league needs to get a handle on this.
Monday afternoon Ben Simmons and Kyle Lowry got ejected after an altercation, which isn't uncharacteristic in the NBA, but then the two exchanged a "let's meet outside" gesture as they walked off the court.
That same night CP3, Trevor Ariza, James Harden and Gerald Green barged into the Clippers locker room after a 102-113 loss and were allegedly trying to fight Austin Rivers and Blake Griffin. 
Nothing occurred in the locker room between the Rockets and Clippers but still not an ideal look for the NBA when guys are getting their shorts ripped, balls thrown dodgeball style at them and players are pushing coaches during games.
Then Tuesday night, Orlando guard Arron Afflalo took a swing at Timberwolves forward Nemanja Bjelica after getting "tangled" up on a rebound. As the announcers said, there must have been something going on before the rebound because the contact between the two wasn't warranting of a fight.
No matter how hard you try to defend the NBA, certain people will always refer to the league as the thugs of sports. Right or wrong, that's how it's always been. I don't agree with the negative stereotype but it's hard to defend the league when things like this continue to occur and go unpunished.
They've made great progress the past couple of years on rebuilding their reputation but if the fighting continues without decent punishment, all the good work will be lost and some fans will turn off the games.
Enough is enough, the fight club needs to stop and the nba needs to force these players to start acting like role models for the hundreds of thousands of kids watching.
---
---
More From KSOO-AM / ESPN Sioux Falls