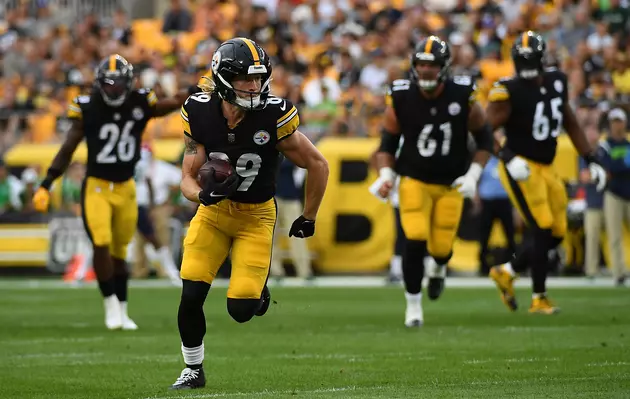 Former NSIC, Bemidji State Star Olszewski Cut by Steelers
Getty Images
Gunner Olszewski has had quite the run thus far in the National Football League from his days as a NSIC student athlete.
The Bemidji State alum went on from college to play for the New England Patriots from 2019-2021, earning All-Pro honors in 2020.
From there, Olszewski was signed by the Pittsburgh Steelers in 2022, but it now appears that his stint in the black and gold might be coming to a close.
Per a report on Friday, the former NSIC standout will be cut from the Steelers:
Tom Pelissero of NFL Media reports that the Steelers are releasing Olszewski ahead of this weekend's game against the Rams.

Olszewski appeared in two of Pittsburgh's first five games this season. He had one catch for no gain and also saw time as a punt and kickoff returner in those appearances.
It's a tough pill to swallow when a team decides to move on midseason.
The good news though, is that there are many teams in need of special teams playmakers that might soon be giving Olszewski a call.
One of which could be the New England Patriots, who gave the former Beaver his first NFL opportunity as an undrafted free agent back in 2019.
Through 4 plus seasons in the league, Olszewski has had a limited role offensively, recording 15 catches for 180 yards and 1 touchdown.
He is a special teams stud by most regards, and in his best season in 2020, averaged 17.3 yards per punt return with the Patriots and led the league in total punt return yardage.
While at Bemidji State, Olszewski was named the conference's defensive player of the year in 2018 and was a DII First-Team All-American that season as well.
Sources: NBC Sports on MSN, Pro Football Reference (Stats) and Gunner Olszewski Wikipedia
South Dakota Born NFL Players of this Century
While not a traditional powerhouse Nation Football League feeder, South Dakota has produces a fair number of football players that went on to the big time in the NFL.
Here are some that have played on various teams over the last couple of decades.
Know Your South Dakota College and University Mascots
The college football experience is an ultimate high for football fans and it takes several other teams to make that happen week after week during the season.
Just think about what goes into gameday? First and foremost, the players and coaching staff who put in hours and hours of practice and training to play in front of their fans. Then there's field prep, game officials, live broadcasts, concessions, and on-the-field entertainment. Yep, entertainment.
Second to the game, who do you watch? The cheerleaders? The band at halftime? What about the mascot? That's a job not many people can do.
I asked Sioux Falls native and former Cagey mascot for the Sioux Falls Canaries and Little Red & Herbie for the Nebraska Huskers Nate Welch about being a mascot:
What does it take to be a mascot?
"Losing a bet or filling an opportunity!" Welch says, "An internal energized desire to love life. After meeting great performers who are introverts out of costume, they become the center of attention when they take the stage. And also feeding off the performance of others."
Why does the mascot never talk?
"Know your role and shut your mouth. You are there to entertain. Tell the story with your actions and not your voice."
Advice to someone putting on that costume for the first time?
"Remember you are now in a costume. Have fun. Otherwise, you're just a dork in tights. If the fur ain't flying you ain't trying."
So, can you name the mascots at our South Dakota Colleges and Universities? Check out the gallery below:
Gallery Credit: Dave Roberts
Ten Most Disappointing Minnesota Sports Seasons
The 2021 Minnesota Twins entered the season with high expectations, but unfortunately, they've made the list of most disappointing Minnesota teams of all time.
Disappointment is a common feeling for Minnesota sports fans as the years continue. Following the NBA Championship win for Milwaukee, SportsCenter was quick to point out that Minnesota has the current longest streak of seasons without a championship appearance in the four major sports (MLB/NBA/NFL/NHL). The Minnesota Lynx also chimed in on the stat after claiming four championships since 2011.
The ten teams that are on this list all follow a similar pattern. The year prior was either a great season with a playoff run or one that featured a strong core of players that appeared to have taken the next step. Offseason/preseason expectations were high with even Las Vegas oddsmakers believing in a deep run. Unfortunately, those preseason expectations fell short for the following teams. None of the teams listed below made the playoffs.
Gallery Credit: Jerry Palleschi
More From KSOO-AM / ESPN Sioux Falls