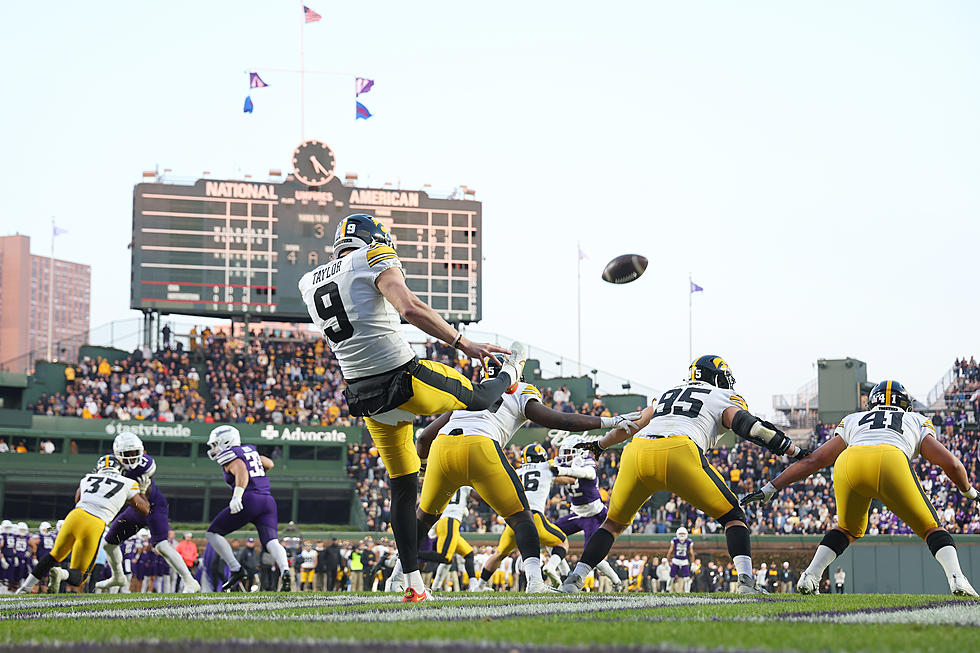 One of Iowa's All-Time Best Players Is Heading to the NFL
Getty Images
Some might say that your football program is in trouble when your best player is the punter. But those people simply have never watched Tory Taylor play football.
You can make a strong argument that Iowa punter Tory Taylor is the best player on this Hawkeye football team. He earned First Team All-American honors last year and leads the Big Ten this season in yards per punt. No other punter is within two full yards of Taylor's average. That is why fans and coaches alike were sad to hear that Saturday will be Taylor's final game inside Kinnick Stadium as one of Iowa's all-time great football players announced that despite having another year of eligibility, he'll head to the NFL next year.
At some point during Iowa's game against Illinois on Saturday, Taylor will trot out and punt for the final time in Iowa City. Taylor told the Cedar Rapids Gazette it's hard to say when that moment will be. Taylor said, "This is Iowa football. You think it's your last punt with five minutes to go in the game, and then I might be out there one or two more times." Not exactly a ringing endorsement of the Iowa offense, but he's right. Iowa head coach Kirk Ferentz remembers when Taylor arrived at Iowa from Melbourne, Australia. Ferentz stated that Taylor was "naive to college football." He found it refreshing.
But Taylor worked his tail off. Ferentz told the Gazette that he'll never forget the way Taylor practiced. Ferentz said, "He's a real craftsman now. … He has such clear focus and intent every time he's out there at practice. He's really practiced at a high level." On top of that he has made punting cool, and become an icon at Iowa. Raygun sells shirts that read, 'Punting is Winning.' Sales of the shirt go to Count the Kicks, an organization that helps prevent stillbirths.
Taylor has punted at Iowa for four years. He does have one year of eligibility remaining due to COVID. But the Gazette reports that Taylor is already 26 years old and the oldest Hawkeye on the team. As he prepares for his future in the NFL, Taylor told the Gazette that he'll miss the little things in Iowa the most. Taylor said that he'll miss "messing around, whether it be with players or coaches or even in the treatment room and things like that."
Iowa fans will miss the booming punts, downed deep inside the opponent's territory. Hawkeye fans will get one more chance to see it this Saturday. One last chance to watch an all-time Hawkeye take the field. Thanks for the bombs, Tory Taylor.
Highlights of Iowa's 2023 Opening Victory Over Utah State
Iowa won the opener 24-14 on Saturday, September 2.
Gallery Credit: Getty Images
Our Favorite Caitlin Clark Photos
Iowa's nunber two scorer of all-time, after just three seasons, Caitlin Clark continues to build on her already legendary career.
Gallery Credit: Getty Images
More From KSOO-AM / ESPN Sioux Falls