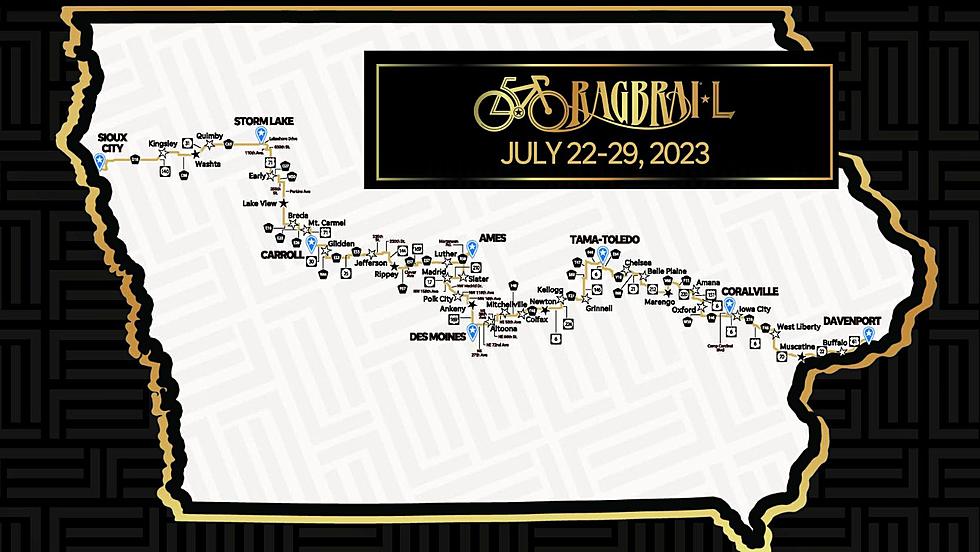 RAGBRAI 50 Route Announced For Ride Across Iowa
Credit: Ragbrai
An official announcement on Ragbrai 50 has been made on the organization's website and social pages, including a full route release which you can see below.
There are 30 different communities across the state that will host riders as they pass through various meeting towns. This year's pass-through towns are a mixture of small and large communities that have hosted riders successfully over the past fifty years.
Take a look at this years week of riding:
Day 1: Sunday, July 23  Sioux City to Storm Lake 
Theme Day: Mile of Silence & Throwback Jersey Day
Mileage: 77 miles
Elevation: 3,504 ft.
PASS THRU TOWNS
Kingsley
WASHTA – MEETING TOWN
Quimby
Day 2: Monday, July 24  Storm Lake to Carroll 
Theme Day: "I RIDE 4" Day; Riders raising money for charities should wear jerseys promoting their causes on this new theme day
Mileage: 62 miles
Elevation: 1,818 ft.
PASS THRU TOWNS
Early
LAKE VIEW – MEETING TOWN 
Breda
Mt. Carmel
Day 3: Tuesday, July 25 Carroll to Ames
Theme Day: RAGBRAI Jersey Day
Mileage: 83 miles
Elevation: 1,479 ft.
PASS THRU TOWNS
Glidden
Jefferson
RIPPEY – MEETING TOWN 
Luther
Day 4: Wednesday, July 26  Ames to Des Moines 
Theme Day: Guinness Book of World Records
Mileage: 50 miles
Elevation: 1,216 ft.
PASS THRU TOWNS:
Slater
Madrid
Polk City
ANKENY – MEETING TOWN 
Day 5: Thursday, July 27 Des Moines to Tama-Toledo
Theme Day: Military Appreciation Day
Mileage: 82 miles
Elevation: 3,652 ft.
PASS THRU TOWNS
Altoona
Mitchellville
Colfax
NEWTON – MEETING TOWN 
Kellogg
Grinnell
Day 6: Friday, July 28 Tama-Toledo to Coralville
Theme Day: College Jersey Day
Mileage: 82 miles
Elevation: 3,303 ft.
PASS THRU TOWNS
Chelsea
Belle Plaine
MARENGO – MEETING TOWN 
Amana
Oxford
Day 7: Saturday, July 29 Coralville to Davenport
Theme Day: Tire Dip
Mileage: 66 miles
Elevation: 1,604 ft
PASS THRU TOWNS
Iowa City
West Liberty
MUSCATINE – MEETING TOWN 
Montpelier
Buffalo
Riders can still register until May 15th, or they can register at the RAGBRAI Bike Expo in Sioux City on July 22nd, the day before the ride across Iowa begins. More general information can be found here, with basic prices to attend/partake below.
Weeklong Rider Registration Price Schedule:
Standard Registration: $225 (March 1st, 2023- April 14th, 2023)
Late Registration: $250 (April 15th, 2023- Registration close on May 15th, 2023)
EXPO Day only registration: $300 (July 22nd, 2023)
Day Passes Registration Price Schedule:
Standard Registration: $50 (March 1st, 2023- April 14th, 2023)
Late Registration: $60 (April 15th, 2023- Registration close on May 15th, 2023)
Event Registration: $70 (July 22nd – July 29th, 2023)
LOOK: Iowa's 12 Smallest Towns That You Could Blink and Miss
More From KSOO-AM / ESPN Sioux Falls