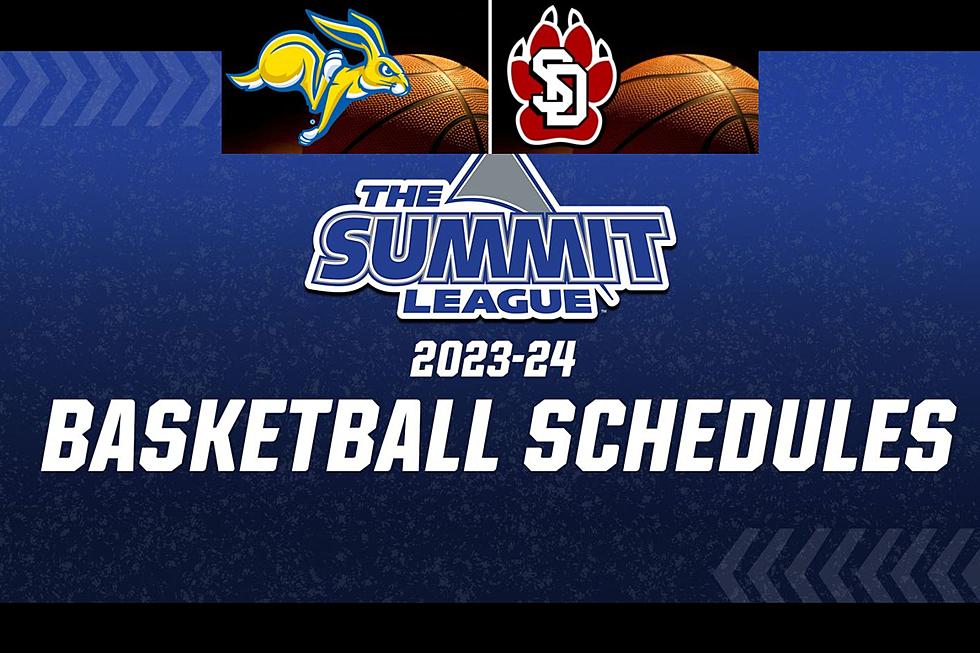 SDSU/USD Summit League Basketball Schedules Released
Summit League
You gotta love the fall season as college sports once again takes the spotlight. Athletes have invested so much time and sweat, and training for the next level of their sporting careers. From the football field to the volleyball court. Cross country and soccer. Then, while our part of the country sees bitter cold and snow move in we shift to the hardwood.
The 2023-2024 men's and women's Summit League basketball schedules have been released and South Dakota and South Dakota State will start their League slate the week after Christmas.
Once again this season, the Coyotes and Jackrabbits will follow a 16-game, home-and-home mirrored schedule.
The opening four #SummitWBB matchups include Omaha at Denver, Kansas City at Oral Roberts, North Dakota at St. Thomas, and North Dakota State at South Dakota. Reigning regular season and tournament champion South Dakota State will open its title defense at North Dakota on New Year's Eve.
According to the Summit League, the 2024 Basketball Championships return to the Denny Sanford PREMIER Center, March 8-12. All nine teams will advance to the postseason.
Below are the schedules for SDSU and USD.
South Dakota State University:
December 1, Towson, Sanford Pentagon
December 9, Wichita State, Wichita, Kan.
December 20, Wyoming, El Paso, Texas
December 21, UTEP or Norfolk State, El Paso,
December 31, vs North Dakota
January 3, at Weber State
January 6, vs Montana State
January 11, at St. Thomas
January 13, at Denver
January 18, vs Omaha
January 20, at South Dakota
January 25, vs Kansas City
January 27, at Oral Roberts
February 1, vs North Dakota State
February 3, vs South Dakota
February 10, vs Oral Roberts
February 15, at Kansas City
February 17, at Omaha
February 22, vs Denver
February 24, vs St. Thomas
February 29, at North Dakota
March 2, at North Dakota State
University of South Dakota:
November 10, University of Texas Rio Grande Valley, Sanford Pentagon
December 29, at North Dakota State
December 31, vs Omaha
January 3, vs Eastern Washington
January 6, at Montana
January 11, at Oral Roberts
January 18, vs St. Thomas
January 20, vs South Dakota State
January 25, at Denver
January 27, at Kansas City
February 1, vs North Dakota
February 3, at South Dakota State
February 8, vs Denver
February 15, at Omaha
February 17, at St. Thomas
February 22, vs Kansas City
February 24, vs Oral Roberts
February 29, vs North Dakota State
March 2 at North Dakota
Ten Most Iconic Uniforms in College Sports
More From KSOO-AM / ESPN Sioux Falls