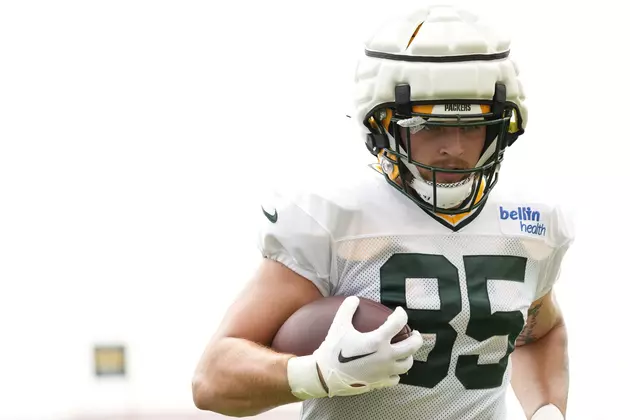 South Dakota Native and Packers Rookie TE Kraft Joins Overtime
Getty Images
Tucker Kraft was selected by the Green Bay Packers in the third round of this year's NFL Draft, and is now settling into his role on one of the most iconic pro sports franchises.
Kraft joined Overtime with Bert Remien on Tuesday, talking about his first training camp, what helped prepare him for the level of play in the NFL, and what's ahead for the Packers this season.
The Timber Lake, South Dakota native and SDSU Jackrabbit alum's complete interview from Tuesday's show is below:
The Green Bay Packers play host to the New England Patriots this weekend for Week 2 of the NFL Preseason. Locally, you can watch the game on KDLT here in Sioux Falls and the surrounding area.
Kraft and the Packers officially open the regular season on Sunday, September 10th in Chicago against the rival Bears, a 3:25 kickoff time.
ESPN 102.3 AM 1000 KSOO is your home for Green Bay Packers football, where you can listen to pregame, postgame, and in-game action all season long here in Sioux Falls.
South Dakota Born NFL Players of this Century
While not a traditional powerhouse Nation Football League feeder, South Dakota has produces a fair number of football players that went on to the big time in the NFL.
Here are some that have played on various teams over the last couple of decades.
More From KSOO-AM / ESPN Sioux Falls