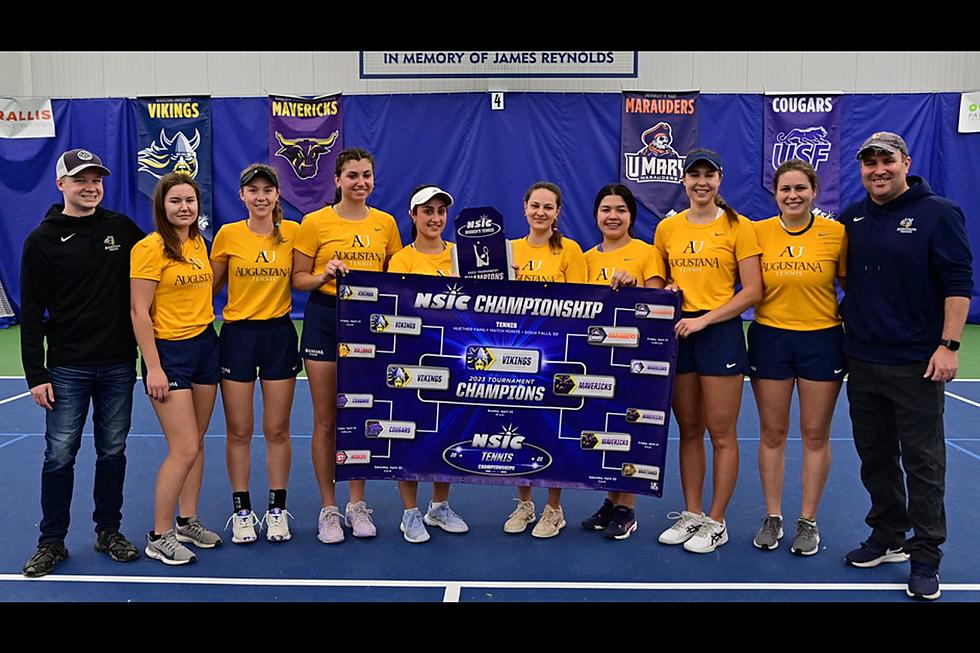 Augustana Women's Tennis Wins 12th-Straight NSIC Tournament
John Klemme
SIOUX FALLS, S.D. – The Augustana Women's Tennis team won its 12th-straight NSIC Tournament title in a 4-0 victory over Minnesota State inside Huether Family Match Pointe Sunday.
The No. 1 seeded Vikings advance to a 20-3 overall record while the No. 7 seeded Mavericks move to a 15-2 overall record.
"It was a great win today," said Augustana head coach Marc Kurtz. "We lost the doubles point the last time we played Minnesota State and we used that as motivation today. It was nice to be 1-0 up heading into singles play. Minnesota State is a good team and they made us earn it today. I really like how we stayed focused on our individual matches and everyone was battling. Now we wait to hear who and where we play for the Central Regional. Let's go Vikings!"
Inside the Matchup Final: Augustana 4, Minnesota State 0 Records: Augustana (20-3), Minnesota State (15-2)
Singles
Florentia Hadjigeorgiou (UF) against Lois Page, 6-4, 3-2, UF
Senem Ocal (UF) against Freia Lawrence, 5-7, 4-1,
UF Aleksandra Kistanova (UF) against Chiara Carnelutti, 6-4, 2-3, UF
Laura Arce Vieyra (AU) defeats Avery Stilwell, 6-0, 6-2
Margarita Chouliara (AU) defeats Daria Podmagilaia, 6-2, 6-2
Gabriela Jancikova (AU) defeats McKenna DeMarce, 6-2, 6-1
Doubles
Florentia Hadjigeorgiou/Aleksandra Kistanova (AU) defeats Lois Page/Avery Stilwell, 6-1
Laura Arce Vieyra/Gabriela Jancikova (AU) defeats Freia Lawrence/Chiara Carnelutti, 6-3
Senem Ocal/Emily Granson (AU) defeats McKenna DeMarce/Elizabeth Felderman, 6-4
Up Next
With the Vikings claiming the tournament championship, Augustana has the NSIC's automatic qualifier to the NCAA Regional. In the most recent regional rankings, Augustana was selected fourth.
Monday is the NCAA Selection Show where the Vikings will learn their opponent and location for the Central Regional. The regional is slated for April 28.
30 famous people you might not know were college athletes
Stacker
dug deep to find 30 celebrities who were previously college athletes. There are musicians, politicians, actors, writers, and reality TV stars. For some, an athletic career was a real, promising possibility that ultimately faded away due to injury or an alternate calling. Others scrapped their way onto a team and simply played for fun and the love of the sport. Read on to find out if your favorite actor, singer, or politician once sported a university jersey.
Ten Most Iconic Uniforms in College Sports
More From KSOO-AM / ESPN Sioux Falls