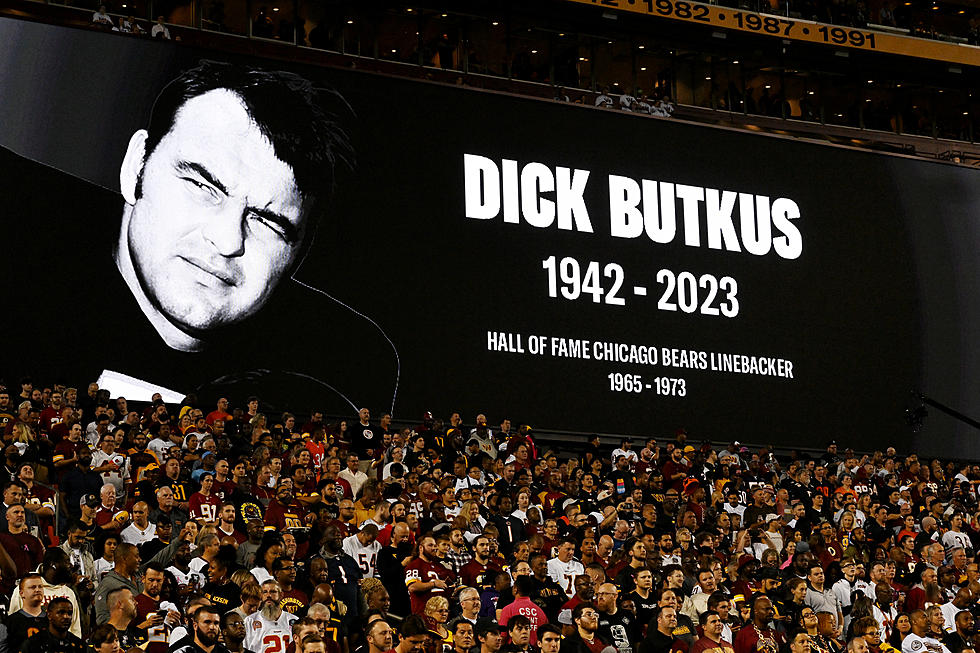 Chicago Bears Legend Dick Butkus Has Passed Away
Photo by Greg Fiume/Getty Images
Legendary Chicago Bear and Monster of the Midway Dick Butkus has passed away.
A statement from the Butkus family said that he died in his sleep at his home in Malibu, California.  Mr. Butkus was 80 years old.
Statement From Roger Goodell
Dick Butkus was a fierce and passionate competitor who helped define the linebacker position as one of the NFL's all-time greats. Dick's intuition, toughness and athleticism made him the model linebacker whose name will forever be linked to the position and the Chicago Bears.
We also remember Dick as a long-time advocate for former players, and players at all levels of the game. The Dick Butkus Award and his foundation honored achievement on the field and service to the community among high school, college and NFL linebackers. Dick was a champion of clean sports as his "I Play Clean" campaign helped raise awareness about the dangers of steroid use among high school athletes.
We send our deepest condolences to the Butkus family, the Bears organization and the many fans and people he impacted throughout his life.
The Chicago Bears Statement
The outpouring of praise for the football player and the man was echoed by the Chicago Bears.
You can just watch what he used to do to opposing offenses for years and years.
Butkus was born in Chicago and played his entire career in Illinois.  An alumni of the Illinois Fighting Illini he was drafted by the Bears in the first round of the NFL draft at pick number 3.
Butkus would go on to win Defensive Player of the Year twice.  a 5x first-team all pro.  8x Pro Bowl player.  Member of the 1960s and 1970s all-decade team.  And a member of the College Football and Pro Football Hall of Fame.
Dick Butkus was 80 years old.
The Best Tenderloins in the Quad Cities Area
Here are some of the most amazing tenderloins the QCA has to offer!
Gallery Credit: Bill Stage
Most "Redneck" Towns In The Midwest
Since the popular Youtube channel run by
Nick Johnson
has made a video about almost every state when it comes to redneck towns we decided to take the number spot from each of those videos and put them in a list of the most redneck towns in the Midwest. In no particular order here are your most redneck towns.
More From KSOO-AM / ESPN Sioux Falls