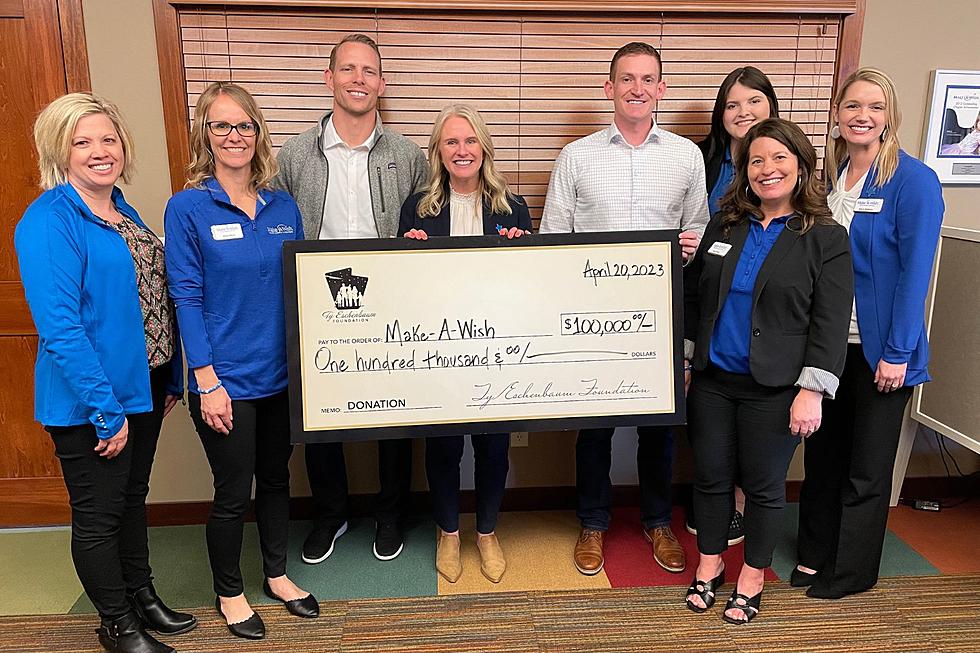 $100,000 Donation To Make-A-Wish South Dakota
The Event Company
When you hear about children fighting critical illnesses it not only affects them but their loved ones who provide the daily care. Families can find themselves in dark places when a child is hurting. And, to bring a smile to that young face, to give them a day that takes their mind off the pain, to provide moments of hope, all that takes passion.
This week Make-A-Wish® South Dakota & Montana Chapter received a donation from one passionate supporter, Ty Eschenbaum. His story is a personal one.
"The Foundation has a long personal history with Make-A-Wish® going back almost 20 years when I was granted a Wish as a teenager," said Eschenbaum. Our partnership with Make-A-Wish® South Dakota & Montana allows us to personally get to know some of the toughest, gracious, and grateful kids and families. For me, this is deeply personal, this is for Autumn. Her spirit lives on through our acts and our intentional decision to live life fully, by serving others."
Eschenbaum made a $100,000 donation to Make-A-Wish® South Dakota & Montana on behalf of his non-profit, the Ty Eschenbaum Foundation (TEF). The money will help make the wishes of children with critical illnesses come true. Eschenbaum's foundation was created in memory of his longtime love, Autumn, who was passionate about children.
In 2004 Eschenbaum was granted a wish that took his family to Disney World after his own battle with, and victory over, leukemia and dozens of complications in the years following.
As Dakota News Now reports, the foundation also supports missionary causes in memory of Eschenbaum's brother, Calder, who passed away in 2021.
The public can support his foundation by participating in the upcoming Summer Classic Golf and Fishing Tournament in June at a Lake Region Golf Club.
Best Time To Have A Good Time in South Dakota
Here Are The 7 Remaining Drive-In Theaters In South Dakota
If you were born last century...you know, in the nineteen hundreds (ugh)...you may have spent a summer evening in the car watching movies. I don't mean on your phone, I mean at the drive-in movie theater!
If you were in Sioux Falls in the 1970s and '80's you may remember seeing
Jaws
and
Indiana Jones
at The
East Park or the Starlite Drive-In
. Both drive-ins opened just after World War 2. The East Park didn't make it out of the '70s, closing in 1978. The Starlite survived long enough to see the birth of home video, closing in 1985.
Drive-in movies had a bit of a resurgence during the pandemic. They were a way to go out and do something social without getting out of your car.
If you tried one during that time, or you remember the fun of a warm summer evening watching movies on that giant screen there are still places in South Dakota and around Sioux Falls you can do it.
More From KSOO-AM / ESPN Sioux Falls