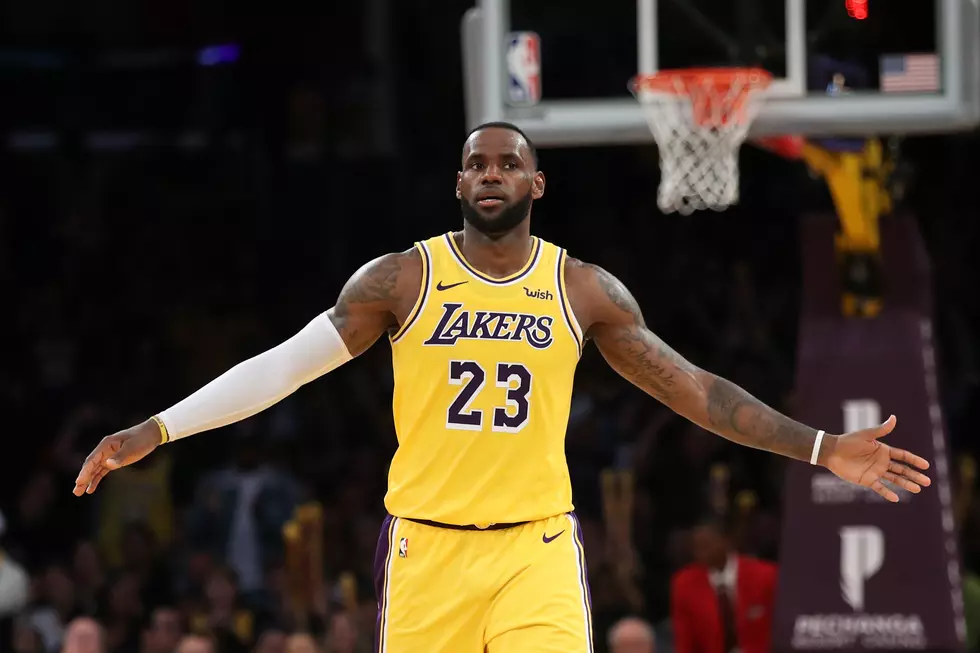 Stop Taking LeBron James for Granted
Getty Images
Age 35.  Year 17.  And 10th trip to the NBA Finals for LeBron James.  He may be from Akron, but James has resided in the Finals for years.  The Los Angeles Lakers defeated the Denver Nuggets in five games last weekend thanks to a 38 point (16 in the 4th quarter), 16 rebounds, 10 assist triple-double from no other than Mr. Closeout himself.  James is now 38-10 in career playoff closeout games.  This is the best record by a player in NBA postseason history.  The "big bad Western Conference" that was supposed to be too much for LeBron, has simply been captured and taken over by LeBron.  The haters are running out of arguments.
After writing about LeBron before, and years of arguing with a father that adores Michael Jordan, I've learned one thing: some older people are stuck in their ways and you cannot change their minds.  You may hate him because he complains (like all players do), you may hate him because he flops sometimes (like all players do), you may hate him because he's outgoing on social media (like most big-time athletes), and most of all you may hate him because he's a threat to the precious, untouchable legacy of Michael Jordan.  
The Michael Jordan statue located outside of the United Center in Chicago was constructed in 1994 after Jordan retired for the first time.  On the statue, he is described as, "The best there ever was, the best there ever will be."  The statue was constructed after Jordan won his 3rd NBA Championship, the same amount LeBron has.  People were already putting him ahead of Magic Johnson who had five rings, Kareem Abdul-Jabaar who had six, Larry Bird who had three, and Bill Russell who had eleven.  Nobody seemed to care about ring count back then, so why should it be any issue now?  6-0 is really becoming the only argument Jordan fans have nowadays.  Worst of all, most of them take LeBron James' greatness and one of a kind talent for granted.
For 17 years, LeBron has lived up to impossible expectations given to him since he was a sophomore in High School.  At age 35, the King is averaging 26.7 points, 10.3 rebounds, and 8.9 assists per game in these playoffs, all while playing incredible defense.  These NBA playoffs have shown us that he is still the best player in basketball.  Don't get me wrong, it sure helps to get support from Anthony Davis, as it did with Scottie Pippen.  But Anthony Davis didn't finish second in MVP voting, James did.
LeBron now has more Finals appearances than 26 NBA franchises.  The man himself is a dynasty and his longevity of dominance is something that cannot be taken for a grain of salt.  His athleticism has changed and will continue to dwindle as he gets older, but the skill set has also changed and has continued to improve in different ways as he gets older.  LeBron has become a better outside shooter, better passer, and better floor general as his career has gone on.  There has never been a player like this man.  Say what you want about him, but you will never see another basketball player like LeBron James.  
James is on the verge of capturing his 4th NBA Championship if he can get past a very good Miami Heat team.  A Finals victory would also mean James would have won a title with a third NBA franchise.  Only Robert Horry and John Salley have done so in NBA History.  No matter if you are rooting for him or against him, you should 100% appreciate and respect what he has done for basketball before he's done for good.  During the Finals, just sit back and soak in his greatness.  In a time of uncertainty, there have only been three certainties that have stayed true: death, taxes, and LeBron James in the NBA Finals.
Enter your number to get our free mobile app
KEEP READING: These are the top 6 scams connected to the pandemic
More From KSOO-AM / ESPN Sioux Falls