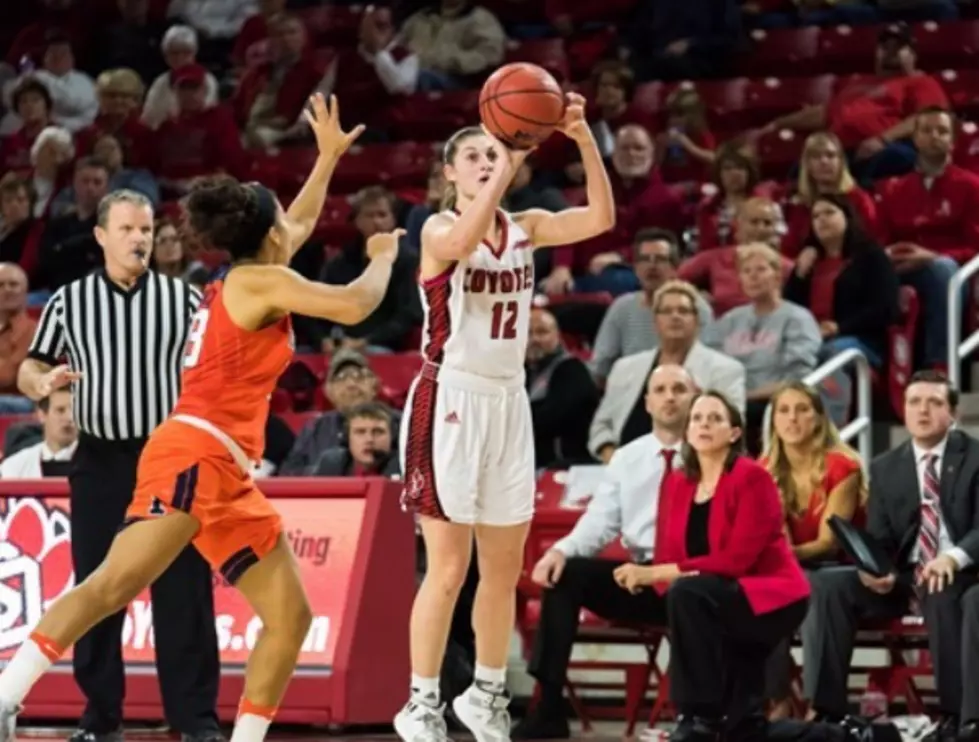 Summit League Preview: South Dakota Women Host Oral Roberts, Omaha
University of South Dakota
After enduring three straight Summit League road games, the South Dakota women's basketball team is back home for a pair this week, with an eye on still being able to grab the top seed in the conference tournanment in a little more than two weeks.
The Coyotes (20-5/9-3) begin the week a half-game behind first place South Dakota State and Western Illinois, who play head-to-head Wednesday (February 15) night.
That same night, USD plays host to an Oral Roberts team that's expected to be back at full strength, after missing some key players over their last five games.
During the stretch, the Golden Eagles (13-13/5-8) are 2-3 and have failed to score more than 55 points in each of their last three games. Overall ORU has dropped eight-of-11 and shot iunder 40 percent nine times. They have also turned the ball over 65 times in the last four games.
Junior Faith Ihim is the top rebounder in the Summit League. She, along with sophomore Maria Martianez and senior Kaylan Mayberry, average in double figures in scoring.
USD won the first meeting 69-47 after getting off to a 20-6 start in the first quarter. Kate Liveringhouse scored seven in the first ten minutes. She finished with 12 points. Allison Arens, Liveringhouse, Jaycee Bradley and Ciara Duffy all scored in double figures and shot a combined 20-of-35 (57%).
South Dakota was plus-16 on the boards.
Saturday (February 18), the Coyotes play their last home game of the regular season when they host Omaha.
The Mavericks (12-13/5-7) already have three conference road wins to their credit this season.
Omaha has been playing great defense lately, grabbing 20 steals in their last three games. Michaela Dapprich has ten during that run.
UNO attempts and makes the second most three-pointers in the Summit. They are second in assists, with Mikela Shaw and Amber Vidal dishing out a combined eight per game.
Shaw has been on a tear on offense lately. She's scored 61 points in her last three games, shooting at a 51 percent clip.
USD won the first meeting 60-52, despite going 2-of-11 from the field in the second quarter and trailing by six at the half.
But the Coyote defense kept it close, holding the Mavericks to just 5-of-23 from behind the three-point arc.
The South Dakota offense rallied in fourth quarter, scoring 23 points, while turning the ball over just once. Allison Arens had 11 points during one 3:30 stretch. She finished 23 points.
Shaw led UNO with 22 points.
The Coyotes are fairly well rested after playing just one game last week.
Thursday (February 9) at Fort Wayne, USD scored 10 of the first 12 points to grab a quick lead. Abigail Fogg was the star early, scoring 11 of her team's first 18 points. She finished the night with a double-double (20 points/10 rebounds).
Ciara Duffy also had a big first half, scoring 14 of her 21 points in the first 20 minutes. She finished the night 9-of-11 from the field and 3-of-4 from behind the arc.
Jaycee Bradley also shot the ball well - 5-of-5 the a trio of three-pointer - to finish with 13 points.
The Coyotes had a plus-13 advantage on the glass, grabbed nine steals, and dished out 21 assists in the 82-55 win, their 20th of the season.
I talked with USD Coach Dawn Plitzuweit about last week's win and this week's match-ups with Oral Roberts and Omaha:
More From KSOO-AM / ESPN Sioux Falls