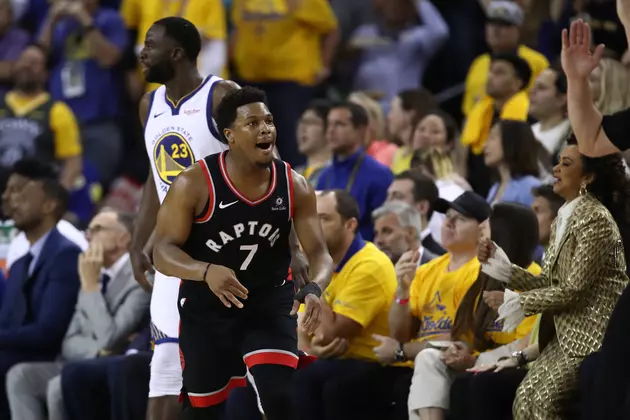 Toronto Raptors Win, Stephen Curry's Scores 47 in Loss
Ezra Shaw/Getty Images
OAKLAND, Calif. -- On the eve of Game 3 of the NBA Finals, Kyle Lowry declared he was going to do two things: Be more aggressive, and stay out of foul trouble. He followed through on his promise Wednesday night, and as a result, the Toronto Raptors have a 2-1 lead after a 123-109 win in Oakland in the best-of-seven series.
Lowry shot 8-for-16 from the field, including 5-for-9 from 3-point range, and had only three turnovers. Perhaps more important, he committed only three fouls.
Golden State Warriors guard Stephen Curry scored 47 points in the loss. It was the most he has scored in any postseason game in his career, besting the 44 he put up in the 2013 playoffs against the San Antonio Spurs.
Despite Curry's offensive brilliance, the depleted Warriors didn't have enough firepower to overcome the absence of Klay Thompson (hamstring), Kevin Durant (calf) and Kevon Looney (costal cartilage fracture), falling behind 2-1 in the series.
Toronto is two wins away from its first NBA title.
Game-4 is Friday night with our coverage beginning at 7:00 PM on ESPN 99.1.
© 2019 ESPN Internet Ventures. All rights reserved. This material may not be published, broadcast, rewritten or redistributed.
More From KSOO-AM / ESPN Sioux Falls