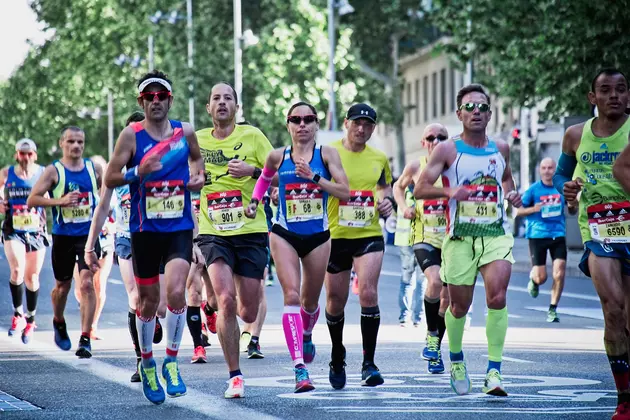 Here's How to Get 10% Off Sioux Falls Marathon Registration
attachment-miguel-a-amutio-hBfiJshiBvc-unsplash
Whether you're running the full marathon, half marathon, or 5k this August in Sioux Falls, we've got you covered with a 10% discount on the big race right here in the Sioux Empire.
Making an appearance on Overtime with Bert Remien on Friday, Sioux Falls Sports Authority Executive Director Thomas Lee shared the news that a new promo code is available for people interested in the upcoming races.
Here's the clip from Friday's show when Lee shared the 10% off promo code:
You heard it here first, 10% off! Use code 'BERT' at checkout and save 10% off of the great annual event that takes to the streets of Sioux Falls in late August.
To register, or if you'd just like more information on the event, visit the official site here.
The race dates back to 2012 right here in Sioux Falls, and per the website continues to grow each and every year in popularity.
Featured races each and every year include the Youth Dash, 5k, Half Marathon, and Full Marathon.
It's a great way to see the city, challenge yourself, and get some great exercise.
Before completion of registration, don't forget to use promo code 'BERT' to save 10%!
Source: Sioux Falls Marathon Official Site
13 Times Sioux Falls Made it into a 'Jeopardy!' Question
If the world was divided into
Jeopardy!
and
Wheel of Fortune
people, I would be down for
Jeopardy!
all the way. It's a lot more fun, it makes me feel smart because I can retain lots of trivia, and I am a horrible speller. So
Wheel
is out, no whammies.
Recently I discovered (I mean wasted a lot of time on)
a website
that is an archive of clues that have been on
Jeopardy!
.
While digging around the archive, I wanted to find out how often Sioux Falls came up in a question (Answer) on the show. Since 1990
Sioux Falls
has been part of a question or an answer 13 times.
More From KSOO-AM / ESPN Sioux Falls