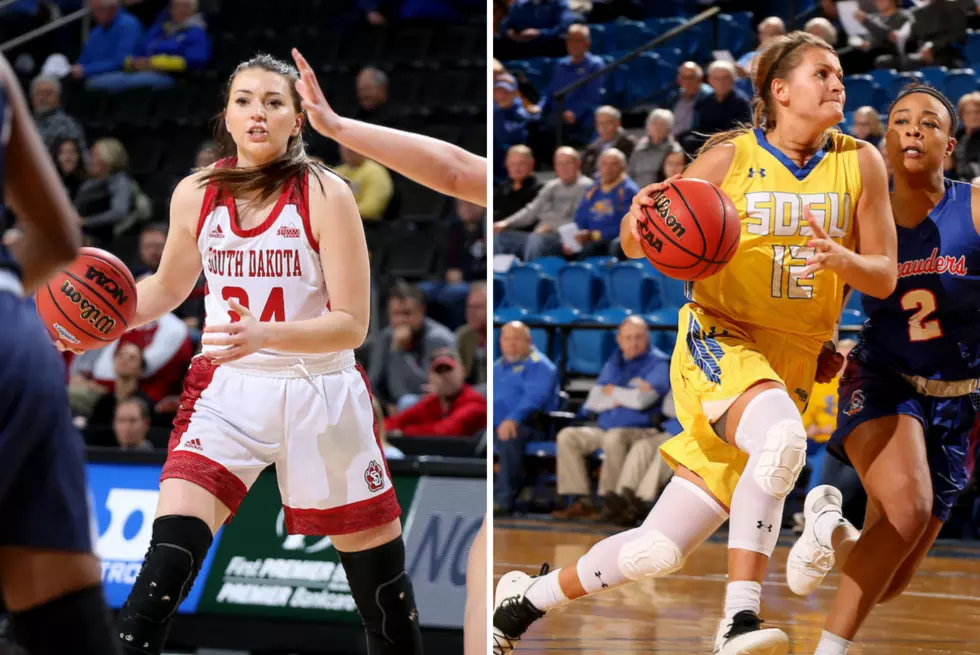 South Dakota, South Dakota State Each up One Spot in Latest Mid-Major Women's Basketball Poll
Dave Eggen/Inertia
The rest of the country agrees.
The Coyotes and Jackrabbits are both in the Top Ten of the latest CollegeInsider.com Mid-Major Poll.
USD (8-1) is up one to number-four in poll after knocking off nationally ranked Iowa State, Mid-Major power Green Bay, and Missouri State in the last week. The Coyotes take a six-game winning streak into Sunday's (December 9) home game against Bellevue.
SDSU (5-3) is up a spot to number six in this week's poll after posting wins over then-number-four Green Bay and Chatanooga in the last week. The Jackrabbits have a big test this week when they host #1 Drake, Saturday (December 8) afternoon.
College Insider Mid-Major Top 25 (first place votes)
Drake (28) 7-1
Gonzaga (2) 8-1
Buffalo (1) 5-1
South Dakota 8-1
Central Michigan 7-1
South Dakota State 5-3
Drexel 5-1
Florida Gulf Coast 6-2
Bucknell 7-2
Green Bay 4-3
Marist 6-2
Maine 5-2
Northeastern 7-0
Quinnipiac 4-4
Saint Mary's 5-2
James Madison 5-1
Belmont 4-3
Wright State 5-3
IUPUI 5-2
Denver 6-1
Ohio 6-0
BYU 6-2
Penn 4-2
UC Irvine 7-0
Abilene Christian 7-1
---