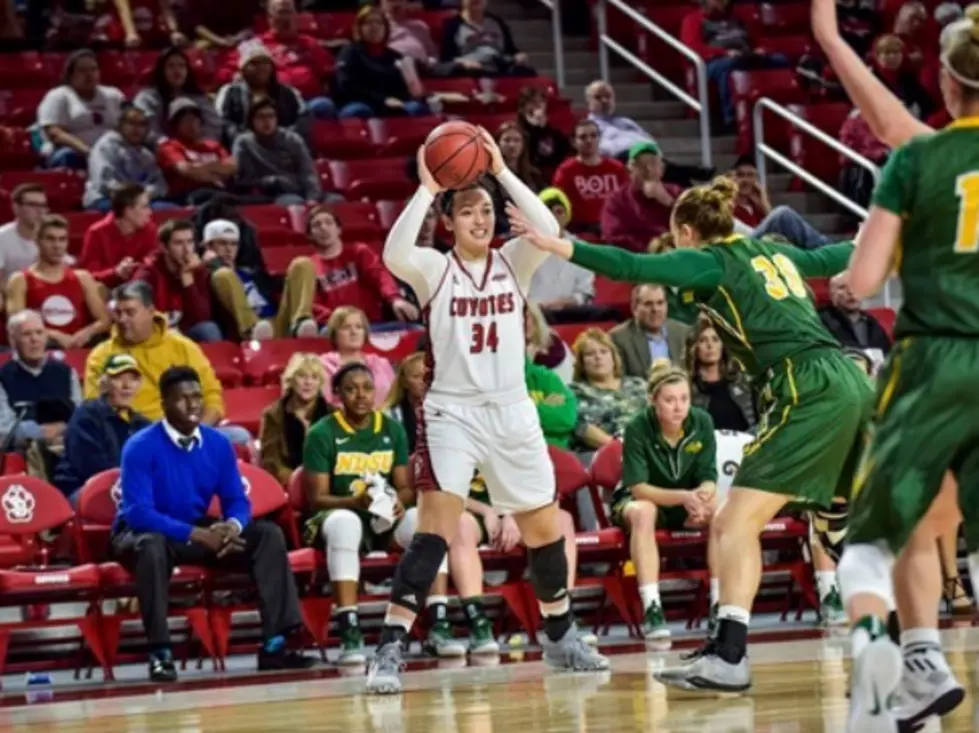 Summit League Preview: South Dakota Women at Fort Wayne
University of South Dakota
Less than a week after falling out of first place in the Summit League standings, the South Dakota women's basketball team will try to regroup with just one game on the slate this week.
Coyotes (19-5/8-3) travel to Fort Wayne, Thursday (February 9).
The Mastodons (4-19/1-9) have been languishing in the Summit League cellar all season, after dropping their first seven conference games. Their lone win came at Omaha last month (January 25), but two losses have followed.
Fort Wayne is last in the Summit in offense, next-to-last in defense and has been getting outscored by an average of 17 points per game. They are minus-seven on the boards.
The Mastodons are the only team in the conference shooting under 30 percent from the three-point line. In their last five games, IPFW is 12-of-55 (22%) from long range.
Sophomore guard De'Jour Young has been a bright spot for Fort Wayne. She's averaging 14 points a game in league play and is in the top ten in rebounding.
Senior Rachel Rinehart averages 11 points a game and is third in the Summit in steals.
USD won first meeting 87-59, shooting 72 percent in the first quarter to open up a 14-point lead after 10 minutes. Madison McKeever's 19 points was part of a 32-point performance from the Coyote bench.
South Dakota pulled down 13 offensive rebounds and was plus-14 overall on the glass. Megan Bonar had seven rebounds.
Tipoff is 5:00 PM in Fort Wayne.
The Coyotes split last week.
In Denver, Wednesday (February 1), USD was red hot from the floor early, hitting six of their first eight shots, before going 10-of-40 the rest of the game. The saving graces for the Coyotes, six of their made baskets were three-pointers and they did outscore DU by eight at the free throw line (all in the second half).
Denver's shooting was slightly colder. The Pioneers were 33 percent from the floor, 23 percent from three, and only 58 percent from the free throw line.
The Coyotes won 53-44 despite committing 19 turnovers and scoring the fewest number of points all season.
Saturday (February 4), it was a battle of first place teams with South Dakota at South Dakota State.
The Jackrabbits perimeter defense was very effective in disrupting the Coyotes shooting attack, limiting USD to just 2-of-10 from behind the three-point arc, and holding their leading scorer, Allison Arens, to just one made basket in six attempts.
The Coyotes had 17 turnovers which resulted in 20 Jackrabbit points.
South Dakota State out rebounded South Dakota by eight and pulled down 14 offensive rebounds on the afternoon. Clarissa Ober led the Jackrabbits with 12 boards to go with a game high 15 points, as SDSU took over sole possession of first place with a 70-58 victory.
I talked with USD Coach Dawn Plitzuweit about last week's split and this week's match-up with Fort Wayne:
More From KSOO-AM / ESPN Sioux Falls