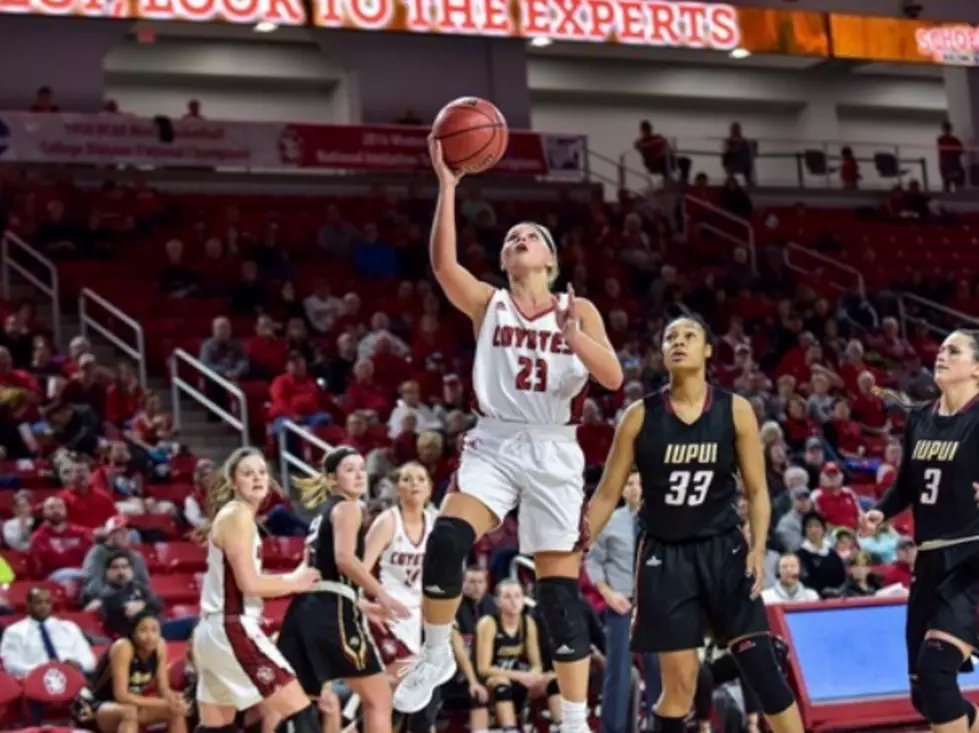 Summit League Preview: South Dakota Women Host North Dakota State, Western Illinois
Aaron Packard/University of South Dakota
The South Dakota women's basketball team has been nearly perfect during their first trip thru the Summit League schedule in 2017.
The lone blemish in seven games so far came in Fargo three weeks ago, when the Coyotes fell 83-73 to North Dakota State, as South Dakota suffered thru its poorest shooting night (37%) in the last 12 games.
USD gets their shot at revenge tonight (January 26) in the Sanford Coyote Sports Center.
Since that game, January 4, South Dakota has reeled off four straight wins, with an average margin of victory of 18 points. The Bison meanwhile have dropped three of four since that win, being outscored by an average of 21 points per game in their last three.
Junior guard Taylor Thunstedt leads NDSU with 17 points a game - fourth best in the Summit League. But in her last three, she's shooting just 30 percent from the floor.
Freshmen Reilly Jacobson and Sarah Jacobson (no relation) are also averaging in double figures in league play.
The Bison (5-15/3-4) are tops in the conference in rebounding, second in scoring and shot attempts.
Tipoff is 7:00 PM in Vermillion.
Saturday (January 28), face off against the only team they have yet to face in the conference this season - Western Illinois.
Leathernecks (15-5/5-2) have lost two straight (SDSU, IUPUI) after winning ten of their previous 11.
WIU is the top scoring team in the Summit, taking more three-pointers than any other team in the conference. They are also second in assists and lead the league in steals and blocked shots.
Junior guard Emily Clemens is second in the league in scoring (18 points per game), first in assists and steals, and second in fewest turnovers.
Junior guard Morgan Blumer is fifth in the conference in scoring (16 points per game), while junior forward Olivia Braun leads the Summit in blocked shots.
Tipoff is 1:00 PM in Vermillion.
The Coyotes (17-3/6-1) won their only game last week, beating Fort Wayne 87-59, Wednesday (January 18).
USD dominated the Mastodons inside, outrebounding Fort Wayne by 14, pulling down 13 offensive rebounds, and scoring 54 points in the paint. Redshirt freshman forward Megan Bonar pulled down a career high seven rebounds.
The Coyotes offense was jump started by a 10-0 run midway thru the first quarter. They lead by 14 at the half, as many as 30 in the second half.
South Dakota surpassed the 50 percent mark from the floor (55%) for the sixth time this season, running their home win streak to 23 games, which  ranks third among active win streaks in the nation behind UConn and Baylor.
USD freshman guard Madison McKeever scored a career high 19 points.
More From KSOO-AM / ESPN Sioux Falls