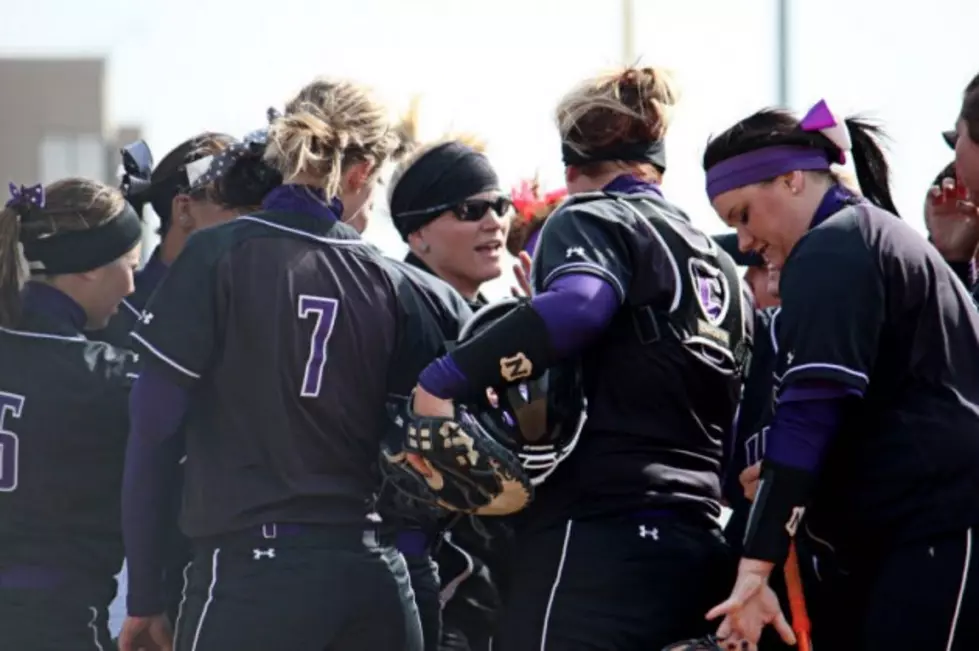 USF Softball Tasted Their First NSIC Tournament Today
University of Sioux Falls
Under first-year head coach Kelsey Thompson, the University of Sioux Falls softball team  tasted their first postseason today in the Northern Sun Conference tournament in Sioux Falls. 
Thompson has spent time playing and coaching at three other NSIC schools that has helped her guide the Cougars into new territory. Last year, she was an assistant coach a few blocks away at Augustana College under Gretta Melsted, and played for both St. Cloud State and Minnesota State-Mankato. She talks about how her experience at the Division II level has helped the Cougars achieve success in her first season as coach.
"Overall, we have a really good support staff, the girls have worked hard, and bought into everything, and working under Melsted at Augustana, (playing) at MSU, and St. Cloud State have been great to the team. It's been a combination of all three that has brought aspects to the team, and been critical to their knowledge."
The Cougars success this season this early on in Thompson's tenure may have come as a surprise to many, but all in all, the girls are very deserving for their hard work put forth. USF went 30-15 overall, and 18-11 in the NSIC this year, and showed their conference foes they are a dangerous team than from past year's. Last year, the Cougars were 15-27 overall and 10-18 in the NSIC.
A big reason for their achievements In 2013-2014, have been their three seniors, Bailey Bouman, Amanda Walters, and Kellen Dewey. The trio's experience has been critical to USF's success.
"They are competitive, driven, and are well-round athletes. Bailey or Amanda on the mound, Bailey at first, Kellen at second base, or at the bats have showed they are passionate, they want to win, and have set a great example for the underclassman," tells Thompson.
Bouman, Walters, and Dewey have a brought a new attitude of winning as USF's softball program is reaching new heights.
"Last year, especially, when the turnaround started. They saw the season take off, and they wanted it so bad. They saw their hard work, and are loving every minute of it. To see it pay off as a coach, it makes you the proudest watching them enjoy being around softball," adds Thompson.
In the regular season, Walters is 18-8 with a 2.28 ERA and has struck out 210 batters. Bouman is 11-6 with a 3.22 ERA and has struck out 73 batters. The duo has combined for 36 complete games, and eight shutouts. At the bat, Dewey is hitting .380 with three home runs and 33 RBI's. Bouman is hitting .366 with three home runs and 28 RBI's.
Aside from the Cougars trio of senior leaders, the bats of junior Erin Scott and sophomore Betsy Thomas have carried the Cougars. Scott is hitting a team-best .408, and Thomas has a team-best nine home runs. Thompson shares of their importance to the Cougars lineup.
"Scott is our leadoff hitter, and almost always starts with a good at-bat, puts pressure on the defense and makes it easier for the two and three hitters. Thomas hits home runs, gets fired up and knows the game."
USF was the fifth-seed in the NSIC softball tournament, and unfortunately lost to Wayne State, 10-8 and Concordia-St. Paul, 7-5.
*For comments or story ideas, email Sam at tastadsam@gmail.com, and follow him on Twitter @samtastad.
More From KSOO-AM / ESPN Sioux Falls